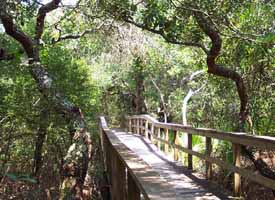 NPS Photo by L. Chandler
You can also . . .
Walk the Nature Trail - Pick up a free trail guide in the Visitor Center and explore this short 1/2 mile long boardwalk trail through the maritime forest. The trail begins next to the restroom building.
Enjoy Nature - Go fishing from the river shore, walk along the river beach at low tide, take the beach boardwalk and go beachcombing on the ocean beach.
Relax and ponder - The view from the fort or the dock is inviting, and you may find yourself sitting on a bench and letting the waves of history splash at your feet.