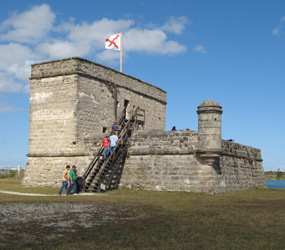 NPS Photo by L. Chandler
You can:
Explore the Fort - by walking and looking around and through the fort, viewing the exhibits, and thinking about what life at the fort might have been like. Brochures and rangers will help explain what you'll be seeing.
Take a Virtual Tour of the Fort.


Listen to the Rangers - An interpretive ranger or the boat captain will give a talk during your trip to the fort.
Watch the movie - which is shown on request at the Visitor Center. This 8-minute video outlines the history of the fort and the area and explains a little of the natural history as well.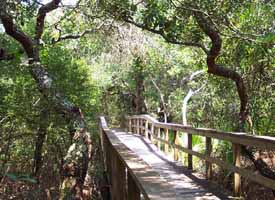 NPS Photo by L. Chandler
You can also . . .
Walk the Nature Trail - Pick up a free trail guide in the Visitor Center and explore this short 1/2 mile long boardwalk trail through the maritime forest. The trail begins next to the restroom building.
Enjoy Nature - Go fishing from the river shore, walk along the river beach at low tide, take the beach boardwalk and go beachcombing on the ocean beach.
Relax and ponder - The view from the fort or the dock is inviting, and you may find yourself sitting on a bench and letting the waves of history splash at your feet.
Accessibility/Special Needs:

The Visitor Center, restrooms, and nature trail are wheelchair accessible. The ferry boat to the fort and the fort itself are not accessible. There is a stairs of fifteen steps to get up to the fort.
Handicapped parking is available in the parking area. Service animals are allowed in the Visitor Center, on the boat, and at the fort. Large print brochures and information in Braille are available upon request as is a captioned version of the video.