Kids & Youth
There are a lot of things for kids to do at Fort Matanzas National Monument. You can take the ferry boat to Rattlesnake Island and explore the old Spanish fort. There is also a half-mile boardwalk nature trail through the woods, and a picnic area set among the old, spreading live oak trees. Children also enjoy walking along the river shore and watching the wading birds and crabs. An entrance to the St. Johns County beach is located just across the street from the park entrance.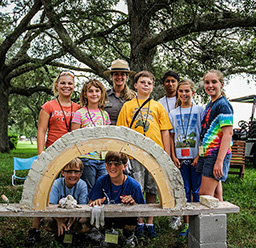 Hands-on-History Summer Camp
This summer the Castillo de San Marcos National Monument is hosting its Second Annual Hands-on-History Camp and Fort Matanzas National Monument is joining in the fun by hosting a Hands-on-History & Nature Camp. Park Rangers, Teacher-Ranger-Teachers from St. Johns County, and knowledgeable volunteers will lead campers (ages 9-11) through a series of interactive presentations, hands-on projects, games, and living history demonstrations that require the campers' active participation. Last summer they painted a tipi, built an arch out of coquina, practiced musket drills, launched a trebuchet, and more! They also created many unique take-home items such as a dyed t-shirt, clay pot, tabby brick, leather bracelet, etc. The activities are centered around themes; Archaeology, Native Americans, Nature, Spanish Exploration, Navigation, Colonial Florida, Masonry, Preservation, Spanish Military and Artillery. The camp curriculum is designed to encourage young people to develop a deeper understanding and appreciation of park resources and the relevance of National Parks in their lives.
There are three weeks of Hands-on-History Camp at the Castillo; June 9-13, June 23-27, July 7-11 and one week of Hands-on-History & Nature Camp at Fort Matanzas; July 21-25. Camps run Monday-Friday; 9:00 am - 1:00 pm. Youth entering 5th and 6th grade (ages 9-11) are invited to register for 1 of the 4 weeks of Hands-on-History Camp. Keep in mind the camps at the Castillo are similar to last year's camps, those wishing to return to should register for camp at Ft. Matanzas, which has a different curriculum. Space is limited to 20 campers per week. Participants will be accepted sequentially (first come, first served basis). To help cover the cost of materials, there is a camp fee of $25. If this fee is a financial hardship on your family, contact our Camp Director at Amelia_Vela@nps.gov to learn about our scholarship program. After paying the $25 camp fee, a spot on the roster is held for your camper and you will be will emailed or mailed a Camp Registration Form. Returning the Camp Registration Form confirms your reservation for camp and shortly after you will receive a Camp Welcome Packet with specific details regarding camp (directions, pick-up/drop-off locations, what to wear and bring to camp, etc.) Registration for camp begins Tuesday, May 13, 2014. Please contact Brandi Kitchens, Visitor Use Assistant, Mon.-Fri., 10:00 am - 3:00 pm. You will need to provide name, major credit card, and email. Call (904) 829-6506 Ext. 232.
Be a Web Ranger!
The National Park Service also has a program called Web Rangers with a variety of activities for all ages on line. As a National Park Service Web Ranger, you'll learn what Park Rangers do to help protect our natural resources and our cultural heritage. You'll also learn how Park Rangers observe and discover new things about our National Parks - things to share with visitors like you. You can help with caring for our parks, teaching others what you learn, and always observing and exploring your environment.
After completing the web activities, you will receive an official Junior Ranger certificate.
Click Here to Become an NPS Web Ranger!
Buddy Bison
Hey kids! Have you met Buddy Bison? Click here and discover the parks Buddy Bison has visited!
buddybison.org/