Event Results
Sorry, but there are no events between 11/26/2015 and 12/26/2015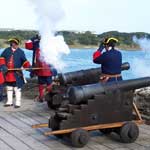 NPS Photo
The next cannon firing day will not take place until April 2016
The first Saturday of each month is Living History Day at Fort Matanzas. (When the first weekend is a holiday weekend, Living History Day will be the second Saturday.) Re-enactors present cannon firings for all tours except for the 9:30 and 4:30 tours. Check the calendar above for specific dates. Evening Torchlight Tours are presented on one Saturday night in January and February.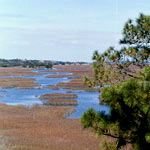 NPS Photo
Fort Matanzas National Monument frequently presents ranger or volunteer-led Nature Programs. These programs can vary in physical exertion from a stationary program in the picnic area, a short walk on one of the park's nature trails or a 2 mile hike along the park's beaches. Check the above calendar for specific details and dates for these programs.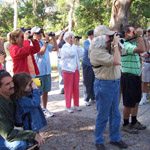 NPS Photo
Bird Walks are usually presented on the second or third Saturday of each month. Led by a member of the Audubon Society, these walks are from 9:30 to 11:30 and meet at the Fort Matanzas Visitor Center. Check the above calendar for specific dates.