Living History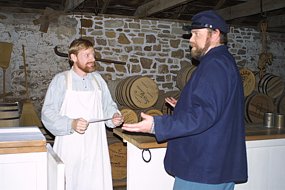 NPS
During special events, and as staffing allows the rest of the year, staff and volunteers dressed in period clothing may be found throughout the fort. These living historians can offer insight into the lives of the people who lived and worked at Fort Larned in its heyday.
You might find living history characters in the infantry barracks, hospital, blacksmith shop, blockhouse, sentry post, school room, commissary, arsenal, quartermaster storehouse, issue room, officers' quarters, or marching around the fort!
Living history demonstrations include blacksmithing, historic weapons demonstrations, games, quilting and sewing, cooking, wood and leather working, baking, and more.
If you would like to participate as a living historian, see the Volunteer page.


Did You Know?
In 1859, Capt. George H. Steuart oversaw the establishment of Camp on Pawnee Fork, which later became Fort Larned. He later joined the Confederacy and was captured at Spotsylvania by General Hancock. Hancock came to Fort Larned in 1867. More...