Remarkable stories of the Indian Wars along the Santa FeTrail....
Visit the most complete fort surviving from the days when Custer and Buffalo Bill Cody rode through. Original buildings, a visitor center, Park Ranger and Volunteers bring the story of this turbulent time to life.
Meet Frances M.A. Roe in Reflections of the Plains Hunt!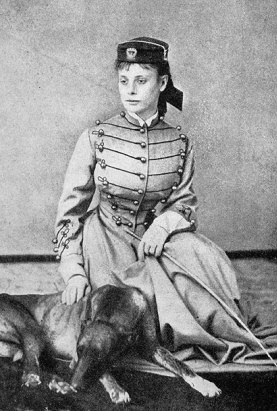 Public Domain
Saturday, October 3 at 10 a.m. in the Visitor Center.
This is one Army wife who knew how to hunt and fish. A first person portrayal of Frances Roe will reveal how this women's popularity surpassed that of her decorated army husband!
Annual Events
Memorial Day Weekend (Saturday, Sunday & Monday) Largest living history event in western Kansas - experience a working frontier fort. The 2015 Memorial Weekend dates are May 23, 24 & 25. Check out the 2015 schedule of events.
Fourth of July (Friday, Saturday and Sunday) Celebrate our nation's birthday at one of the best preserved Indian Wars' Era fort along the Santa Fe Trail. The 2015 Fourth of July special event dates are July 3, 4 & 5. Living history activities will be going on all three days but only Saturday, July 4th will have special activities and programs.
Labor Day Weekend (Saturday, Sunday, & Monday) Re-enactors bring the fort back to life for the holiday weekend. The 2015 Labor Day Weekend dates are September 5, 6 & 7. See the 2015 schedule of events here.
Candlelight Tour (2nd Saturday of October) Entertaining evening tours with vignettes from the fort's history. The 2015 Candlelight Tour will be on October 10. This year's tour highlights the bravery of Corporal Leander Herrron, one of two men stationed at Fort Larned to be awarded the Medal of Honor. We will begin taking reservations at 8:30 am on Monday, September 28, 2015.
Christmas Open House (2nd Saturday of December) Old-fashioned Yuletide celebration with hot apple cider, cookies and Christmas carols. The 2015 Christmas Open House will be on December 12. Check back closer to the date for schedule of activities.
To see schedules for upcoming events, pick a date, or range of dates, below then click on "Show Results".
Upcoming Events
Showing 1 results
  Show ALL instances of recurring events

 RSS Feed
Fort Larned National Historic Site

Saturday, December 12, 2015

Join us for an old-fashioned Christmas celebration just the way the people at the fort would have celebrated in the 1860s and 1870s. More

Location:

Fort Larned National Historic Site