Remarkable Stories of the Indian Wars
Visit the most complete fort surviving from the days when Custer and Buffalo Bill Cody rode through. Original buildings, a visitor center, park rangers and volunteers bring the story of this turbulent time to life.
Bird Program and Hike
February 13, 9 am to 11 am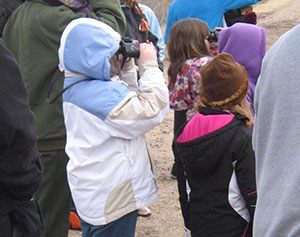 The Eastern Bluebird sure does brighten up the winter landscape! Look for Bluebirds, Downy Woodpeckers, Tree Sparrows, and many other feathered species at Fort Larned during the 2016 Great Backyard Bird Count.
We'll be hosting a nature program and birding hike to support this annual event. Meet at the Visitor Center for a program on Birds of the Fort followed by a bird count led by Park Ranger Barry Jones from Quivira National Wildlife Refuge.
For more information, read the news release, or call Park Ranger Ellen Jones at 620-285-6911.
Upcoming Events
Showing 2 results
  Show ALL instances of recurring events

 RSS Feed
Fort Larned National Historic Site

Saturday, February 13, 2016

Join us for a program about birds around Fort Larned, then take a birding hike to help with the Great Backyard Bird Count. More

Time:

9:00 AM to 11:00 AM

Location:

Fort Larned National Historic Site

Fort Larned National Historic Site

Sunday, February 21, 2016

Find out what it was like to be a Buffalo Soldier at Fort Larned. More

Location:

Fort Larned NHS