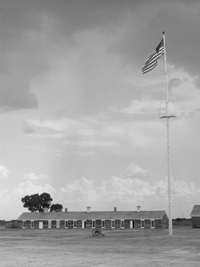 NPS
Both Fort Larned and the city of Larned were named to honor Col. Benjamin F. Larned, paymaster general of the U.S. Army, when the post was established in 1859. He was originally from Pittsfield, Massachusetts.
Larned's military career began when he served as an ensign in the Twenty-First Infantry during the War of 1812. After his participation in the defense of Fort Erie he received the brevet rank of captain for gallant conduct. He then served as regimental paymaster in 1815. By 1854 he had been promoted to the rank of colonel and appointed the paymaster general. He thoroughly reorganized his department to meet the needs of the enlarged army during the Civil War. Col. Benjamin F. Larned never came to Kansas. He died in Washington D.C. at the age 68.
In a time of change and conflict, Fort Larned was on the front lines. The fort's mission began to protect the mail, grew to support the protection of other traffic on the Santa Fe Trail, culminated in Hancock's War and the Medicine Lodge Treaty in 1867, then ended with the completion of the railroad in less than two decades. Today Fort Larned remains the best-preserved fort of its time.
People - Fort Larned was at the epicenter of cultural crossover and conflict. Learn more about the people and their interactions at Fort Larned.
Historic Events - In its 19 years of service, Fort Larned witnessed dramatic changes in the land and its people.
Places - Find out more about the Santa Fe Trail and the places for which Fort Larned matters most.
Stories - Read interesting tales of Fort Larned's past.
Collections - Preview the park's collections of weapons and artifacts.