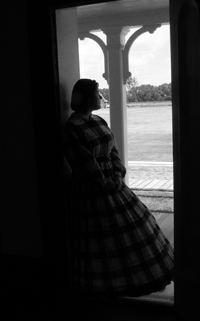 NPS
From Americans to Mexicans, Cheyenne to Apache, Germans to Irish, Fort Larned typified the cultural interplay that defined 19th century America. The racial and cultural issues being decided in this period of change were borne out at Fort Larned.
The 10th Cavalry at Fort Larned - The "Buffalo Soldiers" compiled an honorable military record but still faced the racism and resentment of the post-Civil War era.
Pvt. Adolph Hunnius - A German immigrant in the U.S. Army, Hunnius recorded his interesting experiences at Fort Larned in 1867. His account brings to life the danger, excitement, and drudgery of frontier army life.
List of Army Units Stationed at Fort Larned - A directory of regular and volunteer army units in Fort Larned's 19 years of operation.