Virtual Tour
An introduction to the story of Flight 93

Duration:

6 minutes, 52 seconds

Credit/ Author:

National Park Service/WixPix

Date created:

2012-06-17
Learn about the history of the memorial and take a sweeping bird's eye virtual tour that provides an overview of both completed and future features of the design.

Duration:

3 minutes, 20 seconds

Credit/ Author:

National Park Service/WixPix

Date created:

2012-06-17
The forty engraved marble panels of the Wall of Names, the stark black wall that marks the debris field, and a simple sandstone boulder are just a few of the elements that honor the passengers and crew of Flight 93. Learn about what to expect when visiting the memorial.

Duration:

3 minutes, 16 seconds

Credit/ Author:

National Park Service/WixPix

Date created:

2012-06-17
View a montage of the passengers and crew of Flight 93

Duration:

2 minutes, 22 seconds

Credit/ Author:

National Park Service/WixPix

Date created:

2012-06-17
Preview - Flight 93 National Memorial, Summer 2011.

Duration:

4 minutes, 52 seconds

Credit/ Author:

NPS

Date created:

2011-08-01
Design Competition Video - 2004
This video was created for the design competition packet. It provides glimpses of lands that now make up the memorial as the design competition was just beginning.
Flight 93 National Memorial Virtual Tour (31.3MB wmv file)
Quicktime version ( 30.6MB mac file)


Did You Know?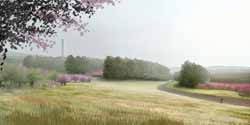 The Flight 93 National Memorial design was selected from over 1,000 entries from 48 states and 27 countries in an international design competition.