New Image of Flight 93 National Memorial Unveiled
News Release Date:
May 4, 2009
"The image is an aerial view from the bowl looking towards the Sacred Ground. to the left in the background, a walkway approaches from an arrival court along the edge of and overlooking the Sacred Ground. The walkway eventually widens in from of a ceremonial gate, shown in bronze, and the wall of names, comprised of 40 panels of 3 inch thick slabs of polished white granite, 8 feet tall, each inscribed with a name of the 40 heroes. Two walls flanking the gate are clad in polished white granite and the flight path is paved with black granite. Beyond the gate is the impact site, shown planted with wildflowers, and the hemlock grove beyond." Paul Murdoch, Architect
Did You Know?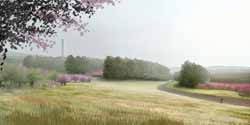 The Flight 93 National Memorial design was selected from over 1,000 entries from 48 states and 27 countries in an international design competition.