Sportsman's ORV driving limitations

Due to the breach at Old Inlet, the sportsman's driving area is reduced to approximately 1¼ miles of the beach west of the Wilderness Visitor Center. Required permits may be purchased at this visitor center when staffed, for use through 12/31/2013. More »
New Backcountry Camping procedures

Reservations for required permits must be obtained through Recreation.gov. Due to the breach at Old Inlet, access to both east and west wilderness camping zones must now be from Davis Park or access points west, and involve a 2½ to 10 mile hike. More »
Fire Island Biennial Science Conference
Fire Island National Seashore's 8th Biennial Science Conference was conducted during National Park Week in April 2012.
8th Biennial Planning, Science and Research Conference
Patchogue-Watch Hill Ferry Terminal
Village of Patchogue, NY 11772

Friday, April 27 and Saturday, April 28, 2012

For more information, please contact us:
by phone:
631-687-5030

by mail:
Fire Island National Seashore Resource Management
120 Laurel Street
Patchogue, NY 11772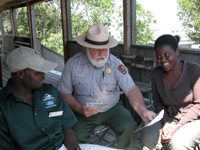 Since 1997, Fire Island National Seashore has hosted a biennial conference to present-to the general public-scientific information from National Park Service-funded projects. This conference provides an opportunity to learn about natural and cultural resource research projects currently or recently conducted on Fire Island and at the William Floyd Estate, as experts from academia, government and conservation organizations provide information about their work. An additional value of the conference is the ability for you to communicate directly with the researchers, other public agencies, and park staff.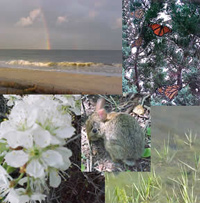 Biennial Science Conference Abstracts
A brief synopsis of the presentations from Fire Island National Seashore's past biennial conferences is available on-line for the following years:
Did You Know?

The use of personal watercraft (PWCs or JetSkis) is restricted within the boundaries of Fire Island National Seashore. While not permitted at National Park Service facilities or near shorelines, PWCs may use the marked channels to access some of the Fire Island communities. More...