More Park Facilities Reopen During May 2013

Watch Hill and Sailors Haven marinas open May 10. Limited ferry service from Sayville to Sailors Haven resumes May 13 and ferries from Patchogue to Watch Hill start on May 18. Remaining park facilities to reopen by May 25, 2013. More »
Wildlife Viewing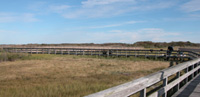 Fire Island National Seashore offers opportunities to catch glimpses of barrier island wildlife in its natural environment.
How exciting it is to spot a shy fox on the dunes as you hike through the Fire Island Wilderness!
Or to spy a seal on the beach as it suns itself on a cold winter day.
Strolling along the nature trail at Watch Hill or in the Sunken Forest, you can almost always see some of the park's bird life.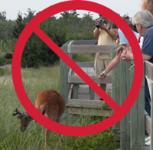 When the park was established in 1964, the sight of a white-tailed deer was worthy of recording. Today, their numbers have soared so that at some locations—especially in some of the Fire Island communities and near the parking lots at each end of the island—deer are now viewed as a nuisance by many people. They have certainly become controversial issues due to their association with other forms of wildlife you may prefer NOT to see.
Deer are potential carriers of ticks that can transmit Lyme disease to people. You should never feed the deer or try to touch any wild animal. Always enjoy them from a distance.
Bird Checklist

This 1999 folder will provide a head start on identifying birds on Fire Island. Read More
Did You Know?

In 1790, William Floyd - one of New York's four signers of the Declaration of Independence - was the largest slave holder in Suffolk County, New York, at one time. The 1790 U. S. Census indicates that 14 slaves lived on his Mastic plantation. More...