Wildlife Viewing
Fire Island National Seashore offers opportunities to catch glimpses of barrier island wildlife in its natural environment.
How exciting it is to spot a shy fox on the dunes as you hike through the Fire Island Wilderness! Or to spy a seal on the beach as it suns itself on a cold winter day. Strolling along the nature trail at Watch Hill or in the Sunken Forest, you can almost always see some of the park's bird life.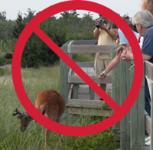 Deer are potential carriers of ticks that can transmit Lyme disease to people. You should never feed or try to touch any wild animal.
Always enjoy wildlife from a distance.
Bird Checklist

This 1999 folder will provide a head start on identifying birds on Fire Island. Read More

Enjoy Each Season

Most people visit Fire Island during the summer, but each season has its own allure. Read More

Learn More About Fire Island Birds

Diverse habitats along the Atlantic flyway support a variety of avian species. Read More