Pet Restrictions in Effect March 15 through Labor Day

Dogs/other pets (except for service animals) are not allowed in the wilderness or on any of Fire Island's federally owned oceanfront beaches from March 15 through Labor Day to help protect threatened and endangered beach-nesting shorebirds. More »
Backcountry Camping Permit and Access Procedures

Reservations for required permits must be obtained through www.recreation.gov. Due to the breach at Old Inlet, access to both east and west wilderness camping zones must now be from Watch Hill or points west, and involve a 1½ to 8 mile hike. More »
Attention Watch Hill Ferry Passengers

Due to channel conditions, delay or cancellation of ferry service between Patchogue and Watch Hill may occur. For updated ferry schedule information, please call 631-475-1665.
Smith Point County Park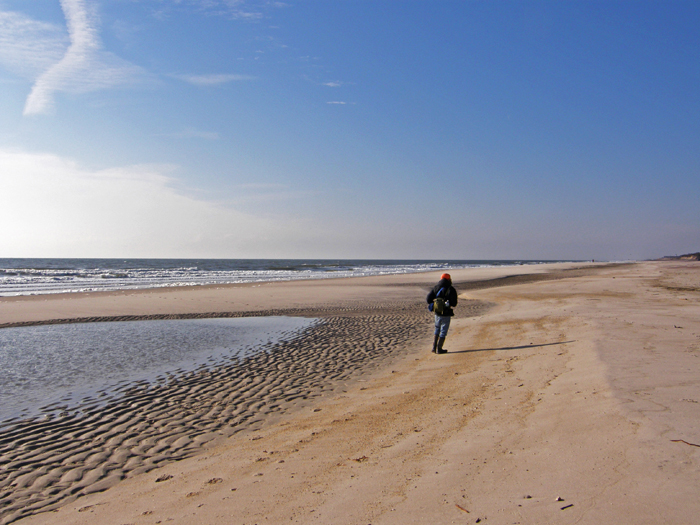 Smith Point County Park is located at the eastern end of Fire Island. While it lies within the boundaries of Fire Island National Seashore, this area is not managed by the National Park Service. The park is accessible by car via the William Floyd Parkway. Parking is available in the Smith Point County Park lot (fee charged) for access to the Otis Pike Fire Island High Dune Wilderness and Wilderness Visitor Center.

Smith Point County Park provides a wide variety of recreational opportunities and services not available at national park facilities on Fire Island. For more information, please visit Smith Point County Park or call 631-852-1313.
TWA Flight 800 Memorial
The TWA Flight 800 International Memorial and Garden is located adjacent to the Smith Point Pavilion. This site, which opened on July 17, 2002, was designed to honor the victims of the crash of Flight 800 off Fire Island on July 17, 1996.
Wilderness Visitor Center

is open throughout the year. Read More

Enjoy Ranger-guided Activities

A variety of interpretive programs are available year round to help you learn more about the natural and cultural resources in the Seashore. Read More

Camping on Fire Island

A variety of options are available to experience the barrier island overnight. Read More
Did You Know?

Tiny rootlets of the American beach grass (Ammophila breviligulata) and mycorrhyzal fungi hold together the grains of sand that make up sand dunes on Fire Island. You can help protect the dunes by not walking or driving over the beach grass. More...