More Park Facilities Reopen During May 2013

Watch Hill and Sailors Haven marinas open May 10. Limited ferry service from Sayville to Sailors Haven resumes May 13 and ferries from Patchogue to Watch Hill start on May 18. Remaining park facilities to reopen by May 25, 2013. More »
For Your Safety: Around Wildlife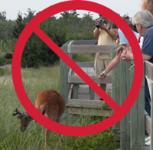 Never Feed or Touch Wildlife
Fire Island offers abundant wildlife sighting opportunities. However, for your safety and the health of the animals, never feed or try to touch wildlife.

Please watch wildlife from a distance. Remember deer and other wild animals are not pets, and their behavior can be unpredictable.

Feeding wildlife makes them come too close to people, where they may injure us or share their ticks with us. Feeding wild animals human food is ultimately unhealthy for them and not in the animals' best interest.

Use Caution Around Sick or Dead Birds

Dead birds—especially crows, jays, and raptors—may have succumbed to West Nile virus. Read More
Did You Know?
New York's state gem—the garnet—may be found among the sands that comprise Fire Island's beaches. Due to differences in size and weight of the grains of sand, you may sometimes see ribbons of garnet and magnatite among the white quartz, as the sand settles on the beach. More...