New Backcountry Camping procedures

Reservations for required permits must be obtained through Recreation.gov. Due to the breach at Old Inlet, access to both east and west wilderness camping zones must now be from Davis Park or access points west, and involve a 2½ to 10 mile hike. More »
For Your Safety: Around Wildlife
Never Feed or Touch Wildlife
Fire Island offers abundant wildlife sighting opportunities. However, for your safety and the health of the animals, never feed or try to touch wildlife. Feeding, touching, or harassing wildlife is prohibited.
Please watch wildlife from a distance. Remember deer and other wild animals are not pets, and their behavior can be unpredictable.

Feeding wildlife makes them come too close to people, where they may injure us or share their ticks with us. Feeding wild animals human food is ultimately unhealthy for them and not in the animals' best interest.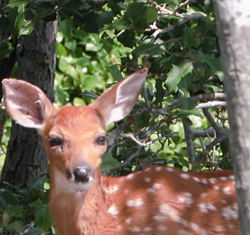 What should I do if I find an abandoned baby animal?
Sometimes, we mistake wild animals we find behaving oddly or in an unexpected place to be diseased or abandoned when in fact they are neither lost nor sick. Young animals like fawns may be alone for hours while their parents search for food; other animals like the Piping Plover feign injury to deter predators; and wildlife often survive superficial wounds like bites and scratches. In these situations it's best to let them be, because we may cause them undue stress by approaching or handling them - and no matter their condition we risk injury when we get too close.
If an animal is truly injured or in distress it's important to contact those that are trained to respond to such situations. Many of us care deeply for wildlife and standing by can be difficult, but the best thing we can do is give injured wildlife plenty of space and, if necessary, contact those with the expertise and required permits to handle wildlife.
When you spot a wild animal that appears to be injured, keep your distance and take a moment to assess the situation. If you decide to contact authorities, your observations will be helpful to them. If the animal is located in a Fire Island community, contact the New York State Department of Environmental Conservation's 24-hour dispatch at 877-457-5680; if you find an injured marine animal contact the Riverhead Foundation's 24-hour stranding hotline at 631-369-9829; and, if you find an injured animal at a National Park Service (NPS) site, or are unsure who to contact, call 631-661-2556 on the west end of Fire Island or 631-281-3010 on the east end. The NPS policy is to rely upon natural processes to maintain populations of native plant and animal species. Park staff may intervene to manage individuals or populations of native species only under certain circumstances.
Did You Know?

Tiny rootlets of the American beach grass (Ammophila breviligulata) and mycorrhyzal fungi hold together the grains of sand that make up sand dunes on Fire Island. You can help protect the dunes by not walking or driving over the beach grass. More...