Robert Moses State Park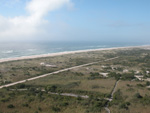 Robert Moses State Park is located on the western end of Fire Island, outside of the boundaries of Fire Island National Seashore. The park is accessible by car via the Robert Moses Causeway. There are several parking lots in the state park
(a fee is charged)
and parking is available within Field 5 to reach the
Fire Island Lighthouse
and Lighthouse Beach.
Please visit
Robert Moses State Park
for more information.
Did You Know?

Tiny insectivorous plants called sundews (Drosera rotundifolia and D. intermedia) may be found in the low moist swales between dunes in the Fire Island wilderness area. Sundew gets its name from the glistening sticky substance on its leaves that traps ants and other small insects. More...