Sportsman's ORV driving limitations

Due to the breach at Old Inlet, the sportsman's driving area is reduced to approximately 1¼ miles of the beach west of the Wilderness Visitor Center. Required permits may be purchased at this visitor center when staffed, for use through 12/31/2013. More »
New Backcountry Camping procedures

Reservations for required permits must be obtained through Recreation.gov. Due to the breach at Old Inlet, access to both east and west wilderness camping zones must now be from Davis Park or access points west, and involve a 2½ to 10 mile hike. More »
Pets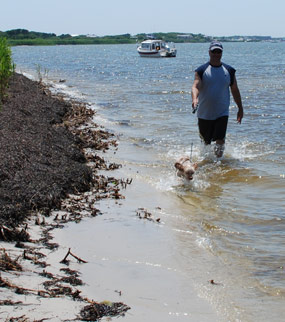 Pets are restricted March 15 through Labor Day on Fire Island National Seashore's ocean beaches and in the Fire Island Wilderness.
Where Can I Take My Dog?
During the summer when ocean beaches are closed to pets, your leashed pet can still join you in some areas: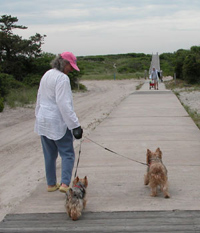 While Fire Island National Seashore offers some areas where you and your pet may enjoy the park together responsibly, the National Park Service does not allow pets (excluding service animals) in buildings, on ocean beaches from March 15 through Labor Day, in picnic areas, or in areas closed for wildlife protection. Pets must be leashed at all times.
Service animals include any guide dog, signal dog or other animal individually trained to do work or perform tasks for the benefit of an individual with a disability, including but not limited to guiding individuals with impaired vision, alerting individuals with impaired hearing, mobility assistance dogs and seizure alert dogs.
Dogs and other domestic pets may be permitted to ride on ferries to Fire Island, at the discretion of the captain. A dog fare is charged.

During the summer, when piping plovers and colonial nesting birds are nesting, all stretches of federally-owned beach are closed to pets, and pets are not allowed in the wilderness area at that time. Your dog may walk with you on most boardwalks and foot trails. Pets are permitted to stay with you in the Watch Hill and Sailors Haven marinas and at the Watch Hill Campground. However, pets may not be tied to docks, boardwalks, structures or facilities, and may not be left unattended.
All pet excrement in public use areas or on the beach must be picked up and disposed of properly.

For the safety of your pet, the park's resources, and other visitors, your pet must be kept on leash and under control. Leashes must be six feet in length or less. With a leash, your pet is less likely to be exposed to ticks (which may transmit Lyme disease), poison ivy (oils can be transferred from your pet's fur to your skin, causing a rash), or other plants with thorns or burs. It also decreases the chance of a dangerous encounter with wildlife or other pets.

When you bring your pet to the park be aware of your surroundings. Respect the rights of others who may have a fear of your pet-even a friendly one. Remember to bring plenty of food and water, clean up after your pet, and never leave a pet tied up and unattended. Don't forget that the heat of summer and walking in the sand can be stressful for many dogs.

Rules and restrictions on pets vary in the Fire Island communities. If you plan to visit one of the 17 communities, Robert Moses State Park, or Smith Point County Park, please contact them directly for their current regulations regarding pets.


Did You Know?

You might get to observe a number of birds on a ranger-guided walk at the William Floyd Estate: a blackburnian warbler perched on a tree branch, a woodcock flushed from the fields, or a bald eagle chasing an osprey with a fish over the salt marsh! More...