More Park Facilities Reopen During May 2013

Watch Hill and Sailors Haven marinas open May 10. Limited ferry service from Sayville to Sailors Haven resumes May 13 and ferries from Patchogue to Watch Hill start on May 18. Remaining park facilities to reopen by May 25, 2013. More »
For Your Safety: Be Careful With Fire

Fire Island National Seashore is composed of several vegetation zones capable of sustaining wildland fires. For this reason, open fires are strictly prohibited anywhere within the park's boundaries.

Barbecuing is permitted only in the park's designated picnic areas where grills have been provided. Never leave a grill unattended and be sure to fully extinguish coals before leaving the picnic area.

For wilderness camping—by permit only—open fires are prohibited; you must bring and use a backcountry stove for cooking.
Fires are not permitted on the beach.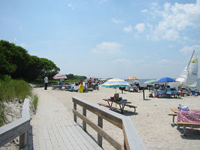 Prevention is the best defense against fire. If smoke or other indications of a fire are present, move to a safe location and report to a ranger as soon as possible or call 911.
Wilderness Visitor Center & Backcountry Permit Desk Hours

Rangers issue permits for wilderness camping when this office is open. Read More
Did You Know?

The use of personal watercraft (PWCs or JetSkis) is restricted within the boundaries of Fire Island National Seashore. While not permitted at National Park Service facilities or near shorelines, PWCs may use the marked channels to access some of the Fire Island communities. More...