Pet Restrictions in Effect March 15 through Labor Day

Dogs/other pets (except for service animals) are not allowed in the wilderness or on any of Fire Island's federally owned oceanfront beaches from March 15 through Labor Day to help protect threatened and endangered beach-nesting shorebirds. More »
Backcountry Camping Permit and Access Procedures

Reservations for required permits must be obtained through www.recreation.gov. Due to the breach at Old Inlet, access to both east and west wilderness camping zones must now be from Watch Hill or points west, and involve a 1½ to 8 mile hike. More »
Attention Watch Hill Ferry Passengers

Due to channel conditions, delay or cancellation of ferry service between Patchogue and Watch Hill may occur. For updated ferry schedule information, please call 631-475-1665.
Fire Island Communities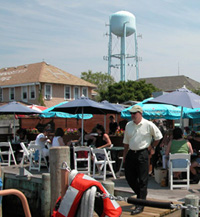 There are 17 different communities on Fire Island within the boundaries the national seashore. When Fire Island National Seashore was established in 1964, its enabling legislation stated that these communities and preexisting commercial uses would be allowed to remain, as long as development was consistent with zoning ordinances established by the Secretary of the Interior.
Some of the Fire Island communities consist of only a few homes while others have hundreds of houses, with restaurants, small grocery and retail stores, and other businesses. There is one elementary school on Fire Island.
There are rental properties, summer homes, and year-round residences on the island. Several hundred people reside in the communities within the boundaries of Fire Island National Seashore during the winter months, while that number swells during the summer.
Although ferry service is available to most communities, many locations do not provide public restrooms. Some of the communities have their own web sites with tourism information. You may contact them directly for more information.
Did You Know?

You may drive to either end of Fire Island, and walk to Fire Island National Seashore from either Robert Moses State Park or Smith Point County Park. You should anticipate long lines of traffic on warm, sunny weekend days. More...