More Park Facilities Reopen During May 2013

Watch Hill and Sailors Haven marinas open May 10. Limited ferry service from Sayville to Sailors Haven resumes May 13 and ferries from Patchogue to Watch Hill start on May 18. Remaining park facilities to reopen by May 25, 2013. More »
Brochures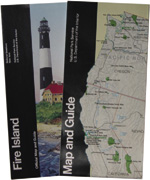 Several brochures and other publications are available to help you have a rewarding stay in the park or to help protect the park's special resources.

For a printed copy of the park folder, which includes the Fire Island map, you may contact us and request that the Fire Island National Seashore Official Map and Guide be sent to your mailing address. Copies are also available at park visitor centers and some other locations.

Other brochures may be available at visitor centers, and some are available on-line.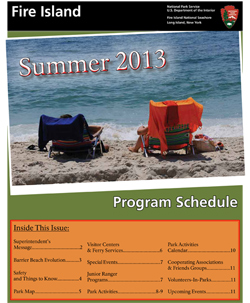 Seasonal activity booklets help you get the most out of your visit to Fire Island National Seashore.
Download a copy before you arrive or pick up your copy at one of the park visitor centers.
From our archives: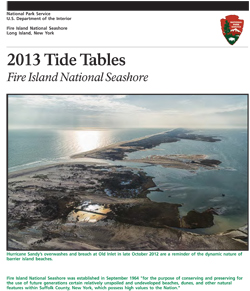 The annual Tide Tables booklet is produced to provide helpful information for operators of permitted vehicles who must use Fire Island beaches. Limited quantities are printed, but the tide and distance information is valued by many.
In this booklet, the times predicted for high and low tides are based on Moriches Inlet calculations.

From our archives:
Several resource and safety flyers are available at the park:
Fire Island National Seashore also produces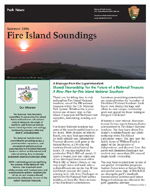 Periodic park news booklets help keep you abreast of the park's critical issues.


Did You Know?
A variety of ranger-guided programs are offered year-round at Fire Island National Seashore. Each activity provides an opportunity to learn more about the park and what makes it such a special place. More...