New Backcountry Camping procedures

Reservations for required permits must be obtained through Recreation.gov. Due to the breach at Old Inlet, access to both east and west wilderness camping zones must now be from Davis Park or access points west, and involve a 2½ to 10 mile hike. More »
Brochures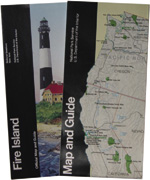 Several brochures and other publications are available to help you plan your stay in the park.

For a printed copy of the park brochure, which includes the Fire Island map, you may contact us and request that the Fire Island National Seashore Official Map and Guide be sent to your mailing address. Copies are also available at park visitor centers and some other locations.

Other brochures may be available at visitor centers, and some are available on-line.
The annual Tide Tables booklet is produced to provide helpful information for operators of permitted vehicles who must use Fire Island beaches. Limited quantities are printed, but the tide and distance information is valued by many.
In this booklet, the times predicted for high and low tides are based on Moriches Inlet calculations.
Several resource and safety flyers are available at the park:
Fire Island National Seashore also produces:


More Things to Know

before your visit to Fire Island. Read More

Fire Island Map

Get your bearings on this digital copy of Fire Island National Seashore's park folder map. Read More

Discover the Sunken Forest

A good way to explore the maritime holly forest at Sailors Haven is to take a guided tour. Read More
Did You Know?
Horseshoe crabs come near shore on the full moon in May and June to lay thousands of eggs, which are a valuable food source for migrating shorebirds in spring and early summer. Occasionally, a perfectly-formed horseshoe crab molt can be found on the beach, shed as the young animal grows. More...