More Park Facilities Reopen During May 2013

Watch Hill and Sailors Haven marinas open May 10. Limited ferry service from Sayville to Sailors Haven resumes May 13 and ferries from Patchogue to Watch Hill start on May 18. Remaining park facilities to reopen by May 25, 2013. More »
Bicycling Information
Getting There
You may ride your bike to several entry points for Fire Island National Seashore, but designated bike routes are not yet fully established on Long Island. (Neither bicycles nor pedestrians are currently permitted to cross the bridge to Robert Moses State Park.)
A few bicycle lockers are located on Long Island near some of the LIRR train stations. (An MTA bicycle permit is required to carry your bike on the train, and there are some restrictions.)
Ferries to Fire Island (see Getting to Fire Island) may charge an additional fee or may require that bicycles be shipped separately on a freight boat.
On Fire Island
There are currently no specially designated bicycle routes within Fire Island National Seashore, and bike riding is not permitted on Robert Moses State Park roadways. However, you may ride your bike on established routes designated for off-road motor vehicle travel.
These are primarily sand roads, which frequently don't provide a very pleasant or effortless ride. You may find yourself pushing your bike along some stretches of deep sand, and you may expose your bike to salt air.
Always remember that you may be sharing the road with much larger vehicles that may not be able to see you.
Bicycles are not permitted in the Otis Pike Fire Island High Dune Wilderness area, on boardwalks or other pedestrian walks on Seashore properties, and may not be ridden around park marinas.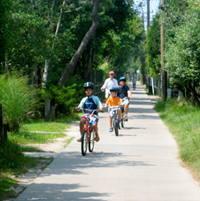 Within Fire Island Communities
Peddling around a relatively vehicle-free island community is a family tradition on many parts of Fire Island.
Bike riding is also regulated in the communities on Fire Island, with some additional restrictions.
You will usually find public restrooms where there are public beaches, but public facilities are not available in most Fire Island communities. In the off-season, facilities are even harder to find.
Certain Federal and New York State vehicle and traffic laws apply to bicycles. Remember that sandy surfaces can be difficult to travel on. Always ride safely and wear your helmet!
---
National Park Service areas are managed to protect park resources and values. Facilities and permitted recreational activities must not cause derogation or impairment to the values and purposes for which the park was established.
Alternate modes of transportation are among the topics to be considered in Fire Island National Seashore's new General Management Plan.


Did You Know?
Fire Island National Seashore's Biennial Science Conference provides an opportunity to hear about the current research projects taking place in the park. More...