Pet Restrictions in Effect March 15 through Labor Day

Dogs/other pets (except for service animals) are not allowed in the wilderness or on any of Fire Island's federally owned oceanfront beaches from March 15 through Labor Day to help protect threatened and endangered beach-nesting shorebirds. More »
Backcountry Camping Permit and Access Procedures

Reservations for required permits must be obtained through www.recreation.gov. Due to the breach at Old Inlet, access to both east and west wilderness camping zones must now be from Watch Hill or points west, and involve a 1½ to 8 mile hike. More »
Attention Watch Hill Ferry Passengers

Due to channel conditions, delay or cancellation of ferry service between Patchogue and Watch Hill may occur. For updated ferry schedule information, please call 631-475-1665.
Bicycling Information
Getting to Fire Island by Bike
You may ride your bike to several entry points for Fire Island National Seashore, but designated bike routes are not yet fully established on Long Island. (Neither bicycles nor pedestrians are currently permitted to cross the bridge to Robert Moses State Park.)
A few bicycle lockers are located on Long Island near some of the Long Island Railroad stations. Be aware that an MTA bicycle permit is required to carry your bike on the train, and there are some restrictions.
Ferries to Fire Island may charge an additional fee or may require that bicycles be shipped separately on a freight boat.
On Fire Island
There are currently no specially designated bicycle routes within Fire Island National Seashore, and bike riding is not permitted on Robert Moses State Park roadways. However, you may ride your bike on established routes designated for off-road motor vehicle travel.
These are primarily sand roads, which frequently don't provide a very pleasant or effortless ride. You may find yourself pushing your bike along some stretches of deep sand, and you may expose your bike to salt air. Always remember that you may be sharing the road with much larger vehicles that may not be able to see you.
Bicycles are not permitted in the Otis Pike Fire Island High Dune Wilderness area, on boardwalks or other pedestrian walks at National Park Service properties, and may not be ridden around park marinas.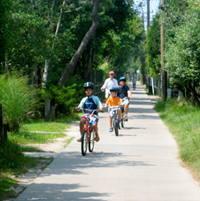 Within Fire Island Communities
Peddling around a relatively vehicle-free island community is a family tradition on many parts of Fire Island. Be sure to check biking restrictions within Fire Island communities.


Camping on Fire Island

A variety of options are available to experience the barrier island overnight. Read More

Fire Island Map

Get your bearings on this digital copy of Fire Island National Seashore's park folder map. Read More

Fire Island Trek

explores a variety of features and facilities in the park and Fire Island communities. Read More
Did You Know?

The Floyd family left to the National Park Service more than 3,000 books from their family's personal library. A number of books were written by descendants of William Floyd, who lived in the house at "Old Mastic." More...