Sportsman's ORV driving limitations

Due to the breach at Old Inlet, the sportsman's driving area is reduced to approximately 1¼ miles of the beach west of the Wilderness Visitor Center. Required permits may be purchased at this visitor center when staffed, for use through 12/31/2013. More »
New Backcountry Camping procedures

Reservations for required permits must be obtained through Recreation.gov. Due to the breach at Old Inlet, access to both east and west wilderness camping zones must now be from Davis Park or access points west, and involve a 2½ to 10 mile hike. More »
Beachcombing
Beachcombing is an activity you can enjoy throughout the year on Fire Island. When ferry service is limited, you may still drive to either end of the island for access to the beach.
You are allowed to gather and take home up to two quarts of unoccupied seashells per day (for personal use only), although there are few days when you're likely to find such an abundance of discarded shells.
Always check to be sure that your shells—especially the univalves or snail shells—are not occupied by a new owner.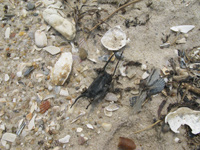 Some of the treasures you find on the beach provide clues to the abundance of life in and on the sea. From marine plants to mollusks and crustaceans, to fish and birds, and even an occasional reptile or mammal. Perhaps your beachcombing will inspire you to learn more about Fire Island's plant and animal life.
Did You Know?
You can hike into New York State's only federally-designated wilderness area on Fire Island. Day trips into the Otis Pike Fire Island High Dune Wilderness provide an opportunity to sample the sensation of being miles away from civilization. More...