New Backcountry Camping procedures

Reservations for required permits must be obtained through Recreation.gov. Due to the breach at Old Inlet, access to both east and west wilderness camping zones must now be from Davis Park or access points west, and involve a 2½ to 10 mile hike. More »
For Your Safety: Avoid Ticks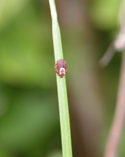 Several species of ticks live on Fire Island. The tiny deer tick can transmit Lyme disease and other illnesses, so you should avoid grassy areas or leaf litter where these ticks may be abundant. Wear light-colored clothing and check yourself frequently for ticks. Use an appropriate insect repellent and follow directions carefully. If bitten, remove the tick carefully with fine-tipped tweezers and consult a doctor.
Lyme disease is a devastating bacterial disease which is transmitted by a tick bite. Symptoms of Lyme disease may include joint pain, fever, lethargy, heart problems, kidney problems, loss of appetite and depression.
Other species of ticks also carry bacteria that can cause serious disease including ehrlichiosis and Rocky Mountain spotted fever.
For More Information
A series of Science Synthesis Papers was published in 2005 to support the preparation of a General Management Plan for Fire Island National Seashore.
Stop by the Visitor Center

Staff at Fire Island's visitor centers help you better understand the park. Read More

For Your Safety, Avoid Poison Ivy

Poison ivy is prevalent throughout Fire Island as a vine or shrub. Read More

Where Can I Take My Dog?

Always keep your pet leashed for its protection. Read More
Did You Know?

Tiny rootlets of the American beach grass (Ammophila breviligulata) and mycorrhyzal fungi hold together the grains of sand that make up sand dunes on Fire Island. You can help protect the dunes by not walking or driving over the beach grass. More...