New Backcountry Camping procedures

Reservations for required permits must be obtained through Recreation.gov. Due to the breach at Old Inlet, access to both east and west wilderness camping zones must now be from Davis Park or access points west, and involve a 2½ to 10 mile hike. More »
For Your Safety: Avoid Poison Ivy
The leaves and stems of poison ivy (Toxicodendron radicans) contain an oil, called urushiol, which can cause a red itchy rash or blisters several days after you touch it. This oil can be transferred from clothing, tools, and pets to your skin.
The best protection is to avoid contact with poison ivy or to wear protective clothing. Wash anything that may have come in contact with poison ivy before the oil touches your skin.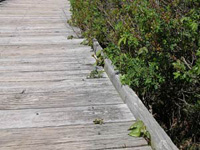 Staying on the boardwalks usually helps you avoid poison ivy. This three-leafed plant can grow as a shrub or as a climbing vine.
In early summer, yellowish or greenish flowers with five petals appear and develop into small round off-white fruits by fall.
The leaves also turn red in fall, providing a cue to many birds which feed on the ripe fruit.
If you've been exposed to poison ivy, wash with soap and cool running water, preferably within an hour after exposure.
Did You Know?

The use of personal watercraft (PWCs or JetSkis) is restricted within the boundaries of Fire Island National Seashore. While not permitted at National Park Service facilities or near shorelines, PWCs may use the marked channels to access some of the Fire Island communities. More...