More Park Facilities Reopen During May 2013

Watch Hill and Sailors Haven marinas open May 10. Limited ferry service from Sayville to Sailors Haven resumes May 13 and ferries from Patchogue to Watch Hill start on May 18. Remaining park facilities to reopen by May 25, 2013. More »
Accessibility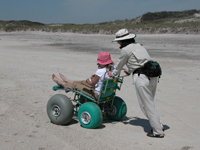 In each area of the park, sections of trail are wheelchair accessible and other sections are not. As boardwalk is replaced, we build it to standards for universal accessibility. It is best to call the specific site for particulars. We have available at Watch Hill, Sailors Haven and Wilderness Visitor Centers the use of a special wheelchair, which enables beach travel. Use of the wheelchair is first come first served. At the William Floyd Estate and the Fire Island lighthouse, only the first floor is accessible to wheelchairs. At both these sites, exhibits are concentrated on the first floors. At the William Floyd Estate, a photograph album depicts the rooms on the second floor for those unable to reach it physically. At the Fire Island Lighthouse Keepers' Quarters, a filmed version of the Lighthouse tower tour is available to view.
With advance notice, individualized programs may be arranged for groups or individuals with special educational needs or mental challenges. Call park headquarters for information and scheduling.


Did You Know?

As you cross the Great South Bay from Long Island to Fire Island, you may be able to catch a glimpse of the light atop the Fire Island Lighthouse, which appears to flash every 7½ seconds. More...