Pet Restrictions in Effect March 15 through Labor Day

Dogs/other pets (except for service animals) are not allowed in the wilderness or on any of Fire Island's federally owned oceanfront beaches from March 15 through Labor Day to help protect threatened and endangered beach-nesting shorebirds. More »
Backcountry Camping Permit and Access Procedures

Reservations for required permits must be obtained through www.recreation.gov. Due to the breach at Old Inlet, access to both east and west wilderness camping zones must now be from Watch Hill or points west, and involve a 1½ to 8 mile hike. More »
Attention Watch Hill Ferry Passengers

Due to channel conditions, suspension of ferry service between Patchogue and Watch Hill may occur. If channel conditions are not navigable, Watch Hill-bound vessels may run to and from Davis Park, approximately one mile from Watch Hill.
Multimedia Presentations
Check out Fire Island National Sesahore's latest videos on YouTube!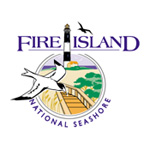 Take a virtual tour of Fire Island National Seashore:
Overview of the park's natural and cultural resources, and its major facilities and recreational opportunities. Includes aerial views of Fire Island and a glimpse of a guided tour of the William Floyd Estate.
Learn more about the significance and the stories of Fire Island National Seashore's cultural resources:
Orientation to the Fire Island Lighthouse
20.3 MB mov
60.8 MB m4v
Duration: 11 minutes 30 seconds

Orientation to the Fire Island Lighthouse
Audio: 9,219 KB mp3
Duration: 11 minutes 30 seconds
Tours into the tower are offered daily, and special guided tours of the Light Station grounds are offered periodically. Curriculum-based education programs are also conducted by the Fire Island Lighthouse Preservation Society.
Loading the player...


Horseshoe Crabs and Citizen Science on Fire Island

In this short 3-minute video, take a closer look at this fascinating creature and the citizen scientists helping us learn more about the spawning population of horseshoe crabs on Fire Island.

Duration:

3 minutes, 16 seconds

Credit / Author:

NPS/Kanter
The William Floyd Estate

Learn more about William Floyd, and the estate located in Mastic Beach on Long Island.

Duration:

6 minutes, 24 seconds
Fire Island National Seashore
40th Anniversary Commemoration
September 11, 2004
Ocean Beach, Fire Island
While this historic anniversary program wasn't officially or professionally recorded, its content was captured on amateur video. Some of these programs are available on the Friends of Fire Island National Seashore web site to share this perspective on the establishment of of the seashore on September 11, 1964.
Introductions
Keynote Address
by Lee Koppelman
Reminiscences by Walter Reish
Historic Readings by Bartley Horton
Reminiscences by Claire Siegel
Remarks by Murray Barbash
Conclusion by Irving Like


Did You Know?

The use of personal watercraft (PWCs or JetSkis) is restricted within the boundaries of Fire Island National Seashore. While not permitted at National Park Service facilities or near shorelines, PWCs may use the marked channels to access some of the Fire Island communities. More...