New Backcountry Camping procedures

Reservations for required permits must be obtained through Recreation.gov. Due to the breach at Old Inlet, access to both east and west wilderness camping zones must now be from Davis Park or access points west, and involve a 2½ to 10 mile hike. More »
White-tailed Deer
White-tailed Deer on Fire Island
White-tailed deer (Odocoileus virginianus) are the most widely-distributed large mammal in North America. While native to Atlantic barrier islands, deer were rarely spotted on Fire Island when it was first established as a national seashore in 1964. Today, however, deer are commonly seen across Fire Island - from the Fire Island communities on the west end of the island to the undeveloped Otis Pike Fire Island High Dune Wilderness on the east end.
Find out more about deer biology.

Over the last 40 years the deer population has increased on Fire Island. In 1974 Fire Island's deer herd was estimated at 50 individuals and by 1989 it was close to 500. In 2003 the deer population on Fire Island was estimated to be between 500 and 700, and today the population is between 300 and 500. The number of deer, however, is not as important as the impacts they have on the park's resources and the public.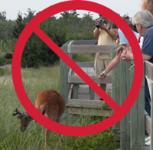 Coexisting with Wildlife
There are around 4,500 homes in the 17 communities on Fire Island, within the boundaries of the National Seashore. The human environment seems an unlikely place for wild animals, but gardens and unsecured garbage are an abundant food source and raised houses and boardwalks provide shelter. Deer are adaptable animals and have learned to survive in a human-dominated landscape.
On Fire Island, white-tailed deer are accustomed to humans and tend not to flee. For this reason, people can get very close to white-tailed deer and, oftentimes, try to touch or feed them by hand. It is understandable that a close encounter with a wild animal in a natural setting is exciting. However, it is best to maintain a safe distance from white-tailed deer in order to promote a natural environment for the animals themselves and to protect yourself from harm.
White-tailed Deer at the William Floyd Estate
White-tailed deer also live and forage at the William Floyd Estate, a separate unit of Fire Island National Seashore on Long Island. The Old Mastic House, twelve outbuildings, family cemetery, and 613 acres of fields, forests, marshes, and trails all represent the extent of the property currently managed as the William Floyd Estate. The deer population was estimated at approximately 140 individuals in 2009, and the park is concerned about impacts deer are having on the landscape- in particular, the forests and the Floyd family's plantings near the Old Mastic House.
Did You Know?

Tiny insectivorous plants called sundews (Drosera rotundifolia and D. intermedia) may be found in the low moist swales between dunes in the Fire Island wilderness area. Sundew gets its name from the glistening sticky substance on its leaves that traps ants and other small insects. More...