Mosquito Monitoring & Management
The Fire Island National Seashore mosquito surveillance and management program is the foundation for mosquito monitoring programs throughout the National Park Service (NPS). It was first implemented in 1998 in response to public concern over Eastern Equine Encephalitis virus (EEEV), but was expanded in 1999 when West Nile virus (WNV) was discovered in New York. The goal of this program is to reduce human health risk from mosquito-borne diseases while adhering to the NPS legal mandate to protect the natural resources of the park.
The Fire Island monitoring program consists of collecting and analyzing salt marsh and freshwater mosquitoes for mosquito-borne diseases. From June to October, Fire Island staff captures mosquitoes for disease testing at multiple locations throughout Fire Island and at the William Floyd Estate. In addition, the park monitors for dead birds that may have died from WNV, specifically crows (Genus Corvus), hawk species (Family Accipitridae), and blue jays (Cyanocitta cristata). Testing of mosquitoes and dead birds is accomplished through partnering with Suffolk County Vector Control (SCVC).
The results of the monitoring program help the park determine management actions in order to keep the public safe as well as protecting the park's natural resources. Management actions may include: notifying the public of potential health risks, conducting education programs, closing areas of the park to the public, and in most extreme cases, conducting pesticide applications.
Surveillance and Education
Fire Island's mosquito management program begins with education, to inform the public about mosquitoes, their role in natural systems, the potential for disease transmission, and the park's surveillance and management program.
Fire Island National Seashore also conducts a sanitation program to reduce artificial Culex larval habitat (e.g., by filling ruts in sand roadways that retain standing water for longer than 2 or 3 days, by draining garbage cans or removing other artificial sources of standing fresh water, etc.) on park lands.
Basic monitoring consists of passive surveillance for dead birds, monitoring of larval and adult mosquitoes - especially adult monnioring using CO2-baited CDC miniature light traps and gravid traps- and viral testing.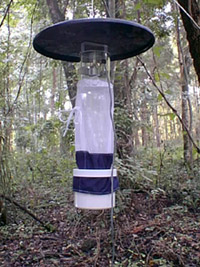 The park's mosquito trapping season usually begins the first week of June and terminates by the middle of October. Study sites chosen to monitor mosquito populations are usually the Fire Island Lighthouse Tract, Saltaire, Sailors Haven/Sunken Forest, the Carrington Tract, Watch Hill, the Otis Pike Fire Island High Dune Wilderness, and the William Floyd Estate. Additional traps are also placed when a positive sample is collected.
The monitoring program uses two types of traps to collect mosquitoes: CDC gravid traps, intended to collect egg-bearing Culex species, and CDC light traps, intended to collect host-seeking adult female mosquitoes of all species.
The park also monitors for dead birds (especially crows, jays, raptors, and robins), vector carrier species which may have died because of WNV. The results of the monitoring program help the park determine management actions. Criteria in the mosquito surveillance protocols dictate the proper steps to take in handling potentially infected carrier animals (dead birds), notifying the public about potential hazards, and authorizing spraying for mosquitoes or closing areas of the park to the public.
Detection and Public Notification
When certain criteria are met, the Mosquito Action Plan is elevated to Stage 2, Detection and Public Notification. With the exception of 2007 and 2011, evidence of WNV-infected mosquitoes has been detected within the boundaries of the park every year since 2000, when it was detected in the community of Saltaire.
If WVN or EEE is detected within the park, visitors and residents will be notified about mosquito densities, the possibility of viral infection, and self-protection methods to minimize the number of mosquito bites. Arrangements are finalized for pesticide application in case conditions warrant such intervention. Larval management in artificial sites will be intensified and surveillance will continue or may be expanded.
Mosquito Management
This stage is triggered by the detection of of disease in more than one "pool" of mosquitoes (a pool is defined as a sample of up to 50 mosquitoes taken from a single trap) or by detection of disease in both mosquitoes and birds, or in increasing numbers of infected birds.
Action at this stage could take several forms: local application of adulticide or larvicide, and/or closing areas of the park to the public. Regardless of what management action is taken, current concerns about disease transmission will be communicated to the public.
Because of its effect on the environment, especially on fisheries and non-target species, spraying is the action of last resort. However, after consultation with Suffolk County Vector Control, New York State Health Department, the Center for Disease Control (CDC), the USGS Research Center and experts from other appropriate institutions or universities, the park may authorize spraying when specified levels of infection are detected.
Is It Safe To Spray?
The use of pesticides within a National Park Service area are required to be in accordance with Servicewide policies as found in NPS-77 (Natural Resources Management Guidelines).
An Integrated Pest Management (IPM) Plan for Fire Island National Seashore was prepared in late November 2006 to provide basic low-risk pest management guidelines to help protect park resources (preserve the stored cultural museum resources and park structures, conserve the park grounds), and to protect the health and safety of people.
The primary aim of a low-risk pest management plan is to reduce pest presence, thus reducing the hazard to the park and humans. (Risk is the result of toxicity [hazard] multiplied by exposure.) It also encourages the use of low-toxicity pesticides or other non-toxic methods for managing pests, resulting in the low-risk pest management approach.
All pesticides used within Fire Island National Seashore must be applied by or under the direct supervision of a State of New York certified pesticide applicator. All pesticides used in the park by residents, contractors, special use permittees, agricultural issues, or non-NPS personnel must conform to NPS policies and guidelines, and be approved before use. The goal is to use low-risk pesticides, if necessary, that will accomplish desired objectives.
Learn More

Under a letter of authorization from the National Park Service, Suffolk County Department of Public Works, Division of Vector Control conducts scheduled spraying for adult mosquitoes in several of the towns and villages within the boundaries of Fire Island National Seashore. Individual residents may request that their property be excluded from nonemergency treatments.
For more on mosquito biology and pesticides: