New Backcountry Camping procedures

Reservations for required permits must be obtained through Recreation.gov. Due to the breach at Old Inlet, access to both east and west wilderness camping zones must now be from Davis Park or access points west, and involve a 2½ to 10 mile hike. More »
History of the Fire Island Lighthouse
Pre-Lighthouse Era on Fire Island: 1783-1824
After the American Revolutionary War, New York became one of the busiest ports in America. Ships destined for New York sailed to port parallel to the southern coast of Long Island.
Fire Island was part of this series of gently sloping barrier beaches, with offshore sandbars lying six to nine feet below the surface of the water and about a quarter mile from the shoreline. This area could be treacherous for ships. Most shipwrecks off the southern coast of Long Island hit the sandbar and snapped their masts, then the rise and fall of the sea destroyed their hull. Approximately 200 known and an estimated 640 unidentified ships wrecked off the coast of Fire Island since the mid-1600s.
On August 7, 1789, the federal government assumed jurisdiction over lighthouses, which had previously been administered separately by the states. Lighthouses were not present along the coast of Long Island prior to the change in jurisdiction.
The Montauk Point Lighthouse, constructed on the easternmost tip of Long Island in 1797, was the first federally funded lighthouse in the country and was the first of several lighthouses that would guide ships along the coastline into New York Harbor. The Fire Island Light, placed into service in 1826, was the second lighthouse off the coast of Long Island.
Original artwork created by Steve Harrington for National Park Service.
First Fire Island Lighthouse: 1825 - 1858
The first Fire Island Lighthouse was built on the western end of Fire Island and put into service in 1826. Constructed of Connecticut River blues split stone, the tower was octagonal in shape and 74 feet tall, tapering from a 32-foot diameter base to a diameter of 16 feet at its top. Its lantern room was 12 feet in diameter. With a focal plane (or height above sea level) of 89 feet, its light could be seen for about 10-14 nautical miles out to sea.
Its original 1826 lighting apparatus consisted of 18 patent lamps and 18 reflectors developed by Swiss physicist and chemist Aimé Arn>gand. Its three sides of six lamps, each with a 15-inch reflector, were rotated by a clockwork mechanism, and flashed a signal every 90 seconds. The lamps were fueled by whale oil, which was stored in barrels at the bottom of the lighthouse tower.
In 1842, the lighting apparatus was refitted with 14 lamps. Two sides of seven lamps, each with a 21-inch reflector, continued to be rotated by a clockwork mechanism and still flashed every 90 seconds. Whale oil was still used for the flame.
In 1852, Congress-following the recommendation of the United States Lighthouse Service-ordered the Fresnel-type of apparatus to be installed in all newly constructed lighthouses.
The Fresnel (pronounced fray-nel') lens was designed by French physicist Augustin Fresnel (1788-1827) in the early 19th century, using a system of prisms and magnifying lenses to refract and concentrate the beams of light.
The Fresnel lens featured one lamp with a variable number of concentric wicks, depending on the order of the light. The type of lamp was determined by the means of supplying fuel to the wicks.
1857-58 Second Fire Island Lighthouse Constructed
The current Fire Island Lighthouse was completed in 1858, with a state-of-the-art revolving first order Fresnel lens produced in France by the Henry-Lepaute company. It was equipped with a first order hydraulic lamp, with 5 concentric wicks, and used Colza oil or whale oil. The 16-foot-tall, beehive-shaped glass and brass apparatus was rotated by means of a clockwork mechanism with flying pendulum. It emitted a 5-second flash once every minute. With a focal plane of 166 feet above sea level, this light could be seen from ships at least 21-23 nautical miles at sea.
This original first order Fresnel lens served as a beacon to mariners from the top of the Fire Island Lighthouse from 1858 through 1932. In 1933, it was taken out of service and displayed at the Franklin Institute in Philadelphia until 2000.
Original artwork created by Steve Harrington for National Park Service.
.The 1858 Fire Island Lighthouse was originally a cream color. It didn't get its distinctive black and white daymarks until 1892.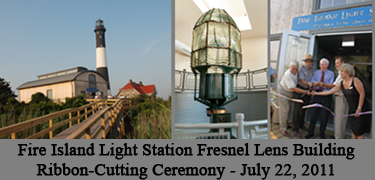 After an absence of 78 years, this Fresnel lens returned to Fire Island on March 8, 2011, and was exhibited to the public on July 22, 2011.
The Fresnel Lens Building is open for tours during regular Fire Island Lighthouse hours of operation.

Fire Island Lighthouse Preservation Society
The Fire Island Lighthouse Preservation Society (FILPS), a nonprofit organization which was instrumental in the preservation of the deteriorating Fire Island Lighthouse in the late 1970s, now operates visitor services at the site under a cooperating agreement with the National Park Service at Fire Island National Seashore. Since 2006, FILPS has also maintained the Fire Island Light as a private aid to navigation under an agreement with the United States Coast Guard.
FILPS is authorized as a fundraising partner to support maintenance and improvements at the Fire Island Lighthouse, and since 2005 has raised more than $500,000 for the construction of the new building to display and interpret Fire Island's original first order Fresnel lens.


Did You Know?

You might get to observe a number of birds on a ranger-guided walk at the William Floyd Estate: a blackburnian warbler perched on a tree branch, a woodcock flushed from the fields, or a bald eagle chasing an osprey with a fish over the salt marsh! More...