New Backcountry Camping procedures

Reservations for required permits must be obtained through Recreation.gov. Due to the breach at Old Inlet, access to both east and west wilderness camping zones must now be from Davis Park or access points west, and involve a 2½ to 10 mile hike. More »
For Kids
During the summer, park staff offer a variety of activities and programs for children. Kids of all ages can join in the fun!
Check out the aquaria at the Fire Island-based visitor centers. Join a seining demonstration or canoeing program (swimmers only).
Learn more about the resources and wonders of Fire Island National Seashore.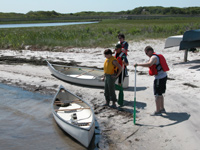 Explore Your Park!
A variety of special programs at Fire Island National Seashore help kids and their families explore the park.
You can join a weekly seining program, Catch of the Day, to discover the common marine life in the Great South Bay. This program is offered during the summer at Watch Hill and Sailors Haven.
Sign up for a weekly Ranger-Guided Canoe Trip at Watch Hill. All equipment is provided, but participants must be able to swim. (Children under age 6 are not permitted on this program.)
Explore the ancient maritime forest on a daily Sunken Forest Tour at Sailors Haven.
Children's Seaside Stories and Crafts are offered weekly at each visitor center during the summer and monthly throughout the year.
The Fire Island Lighthouse provides activities especially for kids, with additional programs offered during local school breaks.
Junior Ranger Workshops and activities are also offered throughout the year.
Check the Calendar of Events for a complete list of scheduled activities.
See what programs are scheduled to happen when you plan to visit!



National Park Service History

Find Fire Island National Seashore on the National Park System timeline. Read More

Fire Island Multimedia

Photos, videos and official social media sites help you discover more about Fire Island National Seashore. Read More

For Kids: Junior Ranger Patch or Badge

is the reward for completing Fire Island's Junior Ranger Workbook. Read More
Did You Know?

As you cross the Great South Bay from Long Island to Fire Island, you may be able to catch a glimpse of the light atop the Fire Island Lighthouse, which appears to flash every 7½ seconds. More...