Sportsman's ORV driving limitations

Due to the breach at Old Inlet, the sportsman's driving area is reduced to approximately 1¼ miles of the beach west of the Wilderness Visitor Center. Required permits may be purchased at this visitor center when staffed, for use through 12/31/2013. More »
New Backcountry Camping procedures

Reservations for required permits must be obtained through Recreation.gov. Due to the breach at Old Inlet, access to both east and west wilderness camping zones must now be from Davis Park or access points west, and involve a 2½ to 10 mile hike. More »
Fire Island Treks
Fire Island National Seashore's Fire Island Trek provides a unique opportunity to explore every aspect of this National Park Service (NPS) unit. Fire Island is one of only ten national seashores in the country! At 32 miles long, this thin barrier island is home to a wilderness area, various barrier island habitats including salt marshes and maritime forest, 17 communities that existed before the establishment of the park in 1964, NPS recreational developments (marinas, campground, food service, visitor centers, lifeguarded beaches) and a historical maritime icon, the Fire Island Lighthouse. During the Fire Island Trek, participants can see and experience many parts of this enchanting collage of coastal life and history.
Come experience it all on one of these incredible ranger-led journeys!
Make your reservations now for the 2013 Fire Island Trek. Detailed schedules now posted!
Fire Island Trek: September 5-6, 2013
2-day, 13-mile hike this year
Fall Twilight Trek: September 21, 2013
1-day, 9-mile hike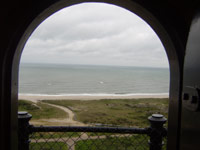 Due to the breach at Old Inlet, Fire Island National Seashore is unable to conduct its traditional 20-mile 3-day Fire Island Trek in 2013. A shorter 2-day 13-mile Fire Island Trek will be held on September 5-6, 2013, followed by a 1-day, 9-mile Twilight Trek on September 21, 2013. Call or e-mail to request an application and reserve your spot.
Limited logistical support is available, but you must provide for your own transportation and parking, and pay for your own meals along the way. You will need to provide your own sleeping bag for overnight stays.
There is a nominal cost for lodging and logistical support. The Fire Island Trek may be canceled at anytime due to inclement weather.

For more information, call the Office of Interpretation at 631-687-4780 or email us.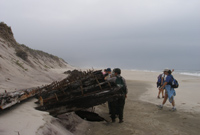 Traditional 3-Day Fire Island Trek
Not Conducted in 2013 Due to Breach at Old Inlet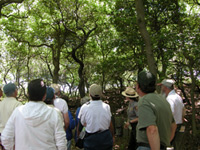 2-Day Fire Island Trek
Day 1 - Thursday
September 5, 2013
10 miles (sand and boardwalk)
Reservations required; $ program fee
You will arrive by ferry to Watch Hill, where you will begin your adventure. All hikers (weather permitting) will participate in an optional guided canoe trip into the Watch Hill salt marsh.
On your first day of the trek, you will be passing though Fire Island's easternmost communities all the way to Atlantique. The group will work its way past the mid-island communities of Fire Island Pines and Cherry Grove to Sailors Haven. Lunch may be purchased at the Sailors Haven snack bar, which will be followed by a stroll through the Sunken Forest.
The Sunken Forest is a rare maritime holly forest habitat-with its centuries-old holly trees, sassafras and shadblow (serviceberry) trees-and was preserved by The Nature Conservancy a decade before Fire Island National Seashore was established.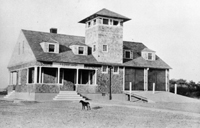 After the tour through the Sunken Forest, you'll hike past the oldest Fire Island community, Point O'Woods, and through one of the largest communities, Ocean Beach, before your stop at the Fire Island Summer Club. At the Summer Club, you'll see one of the former U. S. Coast Guard Station buildings, moved from its original Fire Island location in the late 1940s and adapted for private use today. A long-time resident will share stories about the history of the lifesaving service and the communities located on Fire Island.
Afterwards it's a short walk to the Appalachian Mountain Club (AMC) in the community of Atlantique. AMC maintains a cabin on Fire Island, where participants can enjoy the relaxation of watching a sunset, a late afternoon snack, dinner, and lodging. (AMC is charging a special rate which includes snack, dinner, lodging and breakfast.)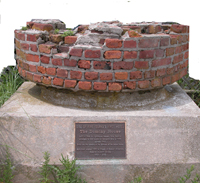 2-Day Fire Island Trek
Day 2 - Friday
September 6, 2013
3½ miles (sand and boardwalk)
After breakfast, the Fire Island Trek ends with a short hike to the Fire Island Lighthouse (3 miles), where you can enjoy the spectacular view from atop the tallest lighthouse in New York.
After a two hour tour and walk to the site of the old Surf Hotel, built in 1855, you'll be able to hike back to Kismet, where the Bay Shore Ferry will transport you back to the mainland. Or you may make arrangements to have someone pick you up at Robert Moses State Park Field #5. All participants are responsible for their own transportation and meals.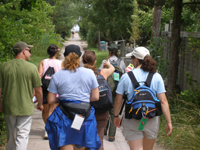 Saturday, Sept. 21, 2013 - Fire Island Fall Twilight Hike
9 miles (sand and boardwalk)
Reservations Required; No Fee
One-day 9-mile tour will leave from the community of Fire Island Pines, and concludes at the Fire Island Lighthouse. This is a great way to see Fire Island and perhaps catch a glimpse of barrier island wildlife. This is recommended only for hikers who are in good physical condition and can walk on sand for 9 miles.
If you're not already on Fire Island, you may need to take the ferry from Sayville, on Long Island, to Fire Island Pines where the program begins. Additional arrangements are necessary to get back home. Plan to be picked up at Robert Moses State Park Field #5. All participants are responsible for their own transportation and meals.
For more information about the Fire Island Trek or to get a reservation form, contact Fire Island National Seashore's Office of Interpretation by e-mail or by phone at 631-687-4780.
Explore Fire Island's History

A fascinating story of maritime history is preserved within Fire Island National Seashore. Read More

Getting Around on Fire Island Requires Planning

You may only get to some facilities on Fire Island by ferry or private boat. Read More

Fire Island Habitats

Learn more about the natural features and ecosystems of Fire Island National Seashore. Read More
Did You Know?

The use of personal watercraft (PWCs or JetSkis) is restricted within the boundaries of Fire Island National Seashore. While not permitted at National Park Service facilities or near shorelines, PWCs may use the marked channels to access some of the Fire Island communities. More...