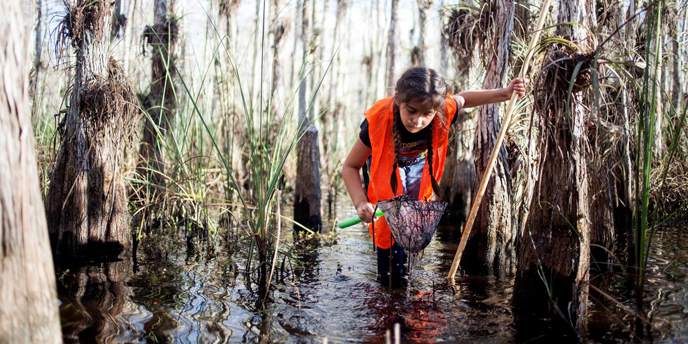 If you want to see what's special about the Everglades, you have to get out of your car. A quiet walk down one of the boardwalk trails, a tram ride through Shark Valley, or a boat tour of Florida Bay or the Ten Thousand Islands will let you experience the Everglades firsthand. With patience and luck you might glimpse wading birds, deer, or the park's most sought after residents -- alligators. Information is available at visitor centers about places to stop and activities to try. Don't let your memories of the Everglades be framed by a car window!
The best bicycling areas are at Shark Valley, the Snake Bight Trail near Flamingo, and along the Long Pine Key Nature Trail.
Whether you spot a single blue heron or an entire flock of roseate spoonbills, birdwatching is one of the most rewarding activities in the Everglades.
Most of the park is only accessible by water making boating a popular way to experience the Everglades. Whether you own a boat, are renting one, or are taking one of the tours that leave from Flamingo and the Gulf Coast, boating brings you closer to the park's wild wonders.
The Everglades offers both frontcountry camping and backcountry camping. Long Pine Key and Flamingo campgrounds offer drinking water, picnic tables, grills, restrooms, and tent and trailer sites. Showers and electric hookups are available at Flamingo. Primitive campsites and beach sites are available through the watery Everglades backcountry.
Gliding silently in a canoe or kayak gives you a wonderful vantage point on the wildlife and vegetation of the Glades. You might even sneak up on a 'gator! The Wilderness Waterway is 99 miles long takes approximately 7-10 days by canoe or kayak, but many well-marked shorter trails exist.
Everglades National Park is a popular spot for saltwater and freshwater sport fishing. Boats can be chartered at Flamingo. Be sure to check a visitor center for park fishing regulations and closed areas.
Geocaching is a real-world outdoor treasure hunt. Players locate hidden containers, called geocaches, using GPS-enabled devices and share their experiences online.
In addition to short interpretative trails, there are some longer hiking trails in the park.
One of the best ways to learn more about the park is participate in ranger-led activities. Rangers lead hikes, canoe trips, slough slogs, bicycle trips, tram tours, and campfire programs.
If you're willing to get your feet wet, off-trail hiking, called slogging, will bring you into closer contact with the park's more elusive species.
In addition to ranger-led activities, there are other ways to enjoy a guided tour through the park. Concession boat captains narrate boat tours along the mangrove coast at both Flamingo and the Gulf Coast, and Tram Tour naturalists guide your explorations of the Shark River Slough.