Shark Valley Ranger Guided Tours
This page provides an overview of programs offered at Shark Valley during
different times of year. This can help visitors consider what they might like to do
on a visit to the park.

Please note that Ranger Programs Change by Season!
Check in with the park during the summer season to see if there have been changes
to the current schedule before packing up your car and heading to the park. Warm and
wet weather sometimes lead to cancellation of programs.

December - March - Dry Season - Increased Ranger programs
April - November - Wet Season - Reduced Ranger programs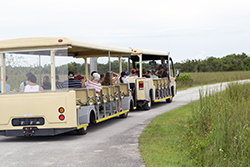 Shark Valley Tram Tours (2-hours, fee charged)
Find yourself in the middle of the "River of Grass", the heart of the Everglades. See alligators, wading birds and other wildlife in their natural habitat. Narrated by a park ranger or park naturalist. (Reservations recommended - 305-221-8455)

Shark Byte (30 minute sit-down talk)
A short, interesting talk by a park ranger or volunteer about the wildlife, history, or some surprising "unknown" aspect of the Everglades. Bring a chair or blanket if you'd like and meet at the tree island across from visitor center.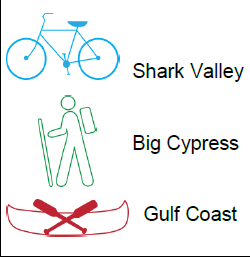 Tamiami Trail Triathlon
Explore 3 different areas of the Everglades in 3 different ways: Bicycle the 15-mile loop at Shark Valley. Hike 3 miles of trail from the Oasis Visitor Center in Big Cypress National Preserve. Paddle roundtrip from the Gulf Coast Visitor Center in Everglades City to Sandfly Island in the Ten Thousand Islands. Complete all three activities and earn a decal and the title "Tamiami Trail Triathlon Finisher." Bring your own bicycle, canoe/kayak, or rent one. This activity does not have to be completed in one day. Stop by the Gulf Coast, Oasis, or Shark Valley Visitor Centers for more information.