Flamingo Ranger Guided Tours
Space123(239)695-2945
Directions spac No Ranger Programs available at this time
This page provides an overview of programs offered at Flamingo during
different times of year. This can help visitors consider what they might like to do
on a visit to the park.

Please note that Ranger Programs Change by Season!
Check in with the park during the summer season to see if there have been changes
to the current schedule before packing up your car and heading to the park. Warm and
wet weather sometimes lead to cancellation of programs.

December - March - Dry Season - Increased Ranger programs
April - November - Wet Season - Reduced Ranger programs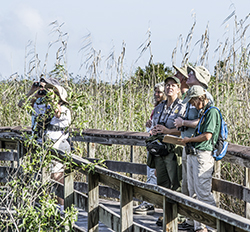 Bird Walk (2.5 hours); 8 - 10:30 a.m.
Join us for an easy stroll to observe the birds of the Flamingo area. Meet at the Flamingo Visitor Center and be prepared to drive. Bring binoculars (if you have them). Beginners are welcome.

The Mobile Museum (1hour); 1:30 – 2:30 p.m.
Stop by the Flamingo Visitor Center breezeway any time between 1:30 p.m. and 2:30 p.m. to marvel at this diverse collection of natural history paraphernalia.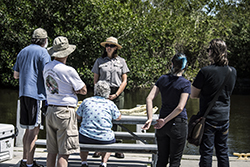 Croc Talk (30 minutes); 1:30 – 2:00 p.m.
Flamingo is America's "Crocodile Capital." Meet in front of the Marina Store to learn about these rare reptiles, and for a possible view of the real thing.

Python Talk (30 minutes); 1:30 – 2:00 p.m.
Meet at the benches below the Visitor Center to learn the real story about the invasive pythons of Everglades National Park.
Did You Know?

Soft-shell turtles may not have the protective hard covering seen on other turtles, but they make up for that with relatively greater speeds in the water. Also, their long noses are well adapted for snorkeling. These amazing animals seem perfectly built for a life in the Everglades!