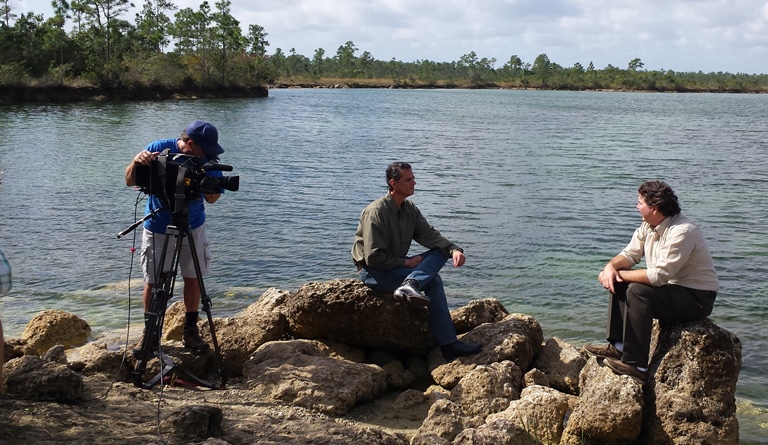 The vast, unspoiled panorama of Everglades National Park and the pristine marine environment of Dry Tortugas National Park (with historic Fort Jefferson) offer photographers and filmmakers unique opportunities for capturing the natural world on film. However, the Congressional acts establishing these parks places a two-fold responsibility upon the National Park Service to protect the natural and cultural resources and to provide for the visitors' enjoyment of them.

Commercial Filming
Commercial filming operations may be permitted, however there are restraints on these activities to ensure the resources are protected and visitors are not unduly affected. (Public Law 106-206 outlines commercial filming permit requirements as well as location fee and cost recovery criteria. In addition, there is a $200 non-refundable application fee to cover the cost of processing your permit request. This covers the average time it takes to issue a permit, there may be additional per hour charges for complex applications.

Commercial filming is defined as digital or film recording of a visual image or sound recording by a person, business, or other entity for a market audience, such as a documentary, television or feature film, advertisement, or similar project.
Prior approval from the Superintendent, in the form of a film permit, is required before any work can commence. All filming activities must be in compliance with the general regulations for Everglades
National Park and Dry Tortugas National Park.
News Gathering
News gathering activities may require a permit if the activities are of such size and scope that a permit would help manage the activity to minimize possible damage to park resources and visitor use conflicts or authorize entrance into a closed area.
Even when the above circumstances are present, permits will be required only if there is sufficient time to issue the permit without impeding the crew's ability to gather the news. If there is not sufficient time to issue a permit, visitor and resource protection will be managed verbally in the field. There are no cost recovery charges or location fees for permits issued for news gathering activities.
News Gathering activities are coordinated through the Public Affairs Office at Everglades National Park (305-242-7714) or email.
Commercial Filming activities are coordinated through the Chief Ranger's Office at Everglades National Park, (telephone 305-242-7734). You may contact the Film Permit officer through this e-mail if you have
questions.
We highly recommend planning in advance and suggest you submit your film permit applications for at least two weeks in advance. The application form is available in the weblink below and may be faxed to (305)
242-7716.
Information on Filming in the Park
Commercial Filming and Still Photography 10-931
Commercial Filming and Still Photography 10-932