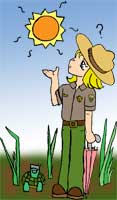 The wet season is followed by a period of very little to almost no rain. This is the start of our second season, the Dry Season.
The dry season, runs from December through April. During this season, everything starts to dry up in a short amount of time.
In the Everglades, the water levels from month to month can change drastically.
That's part of the unique charm of this place!
You would think that the animals and plants of the Everglades would find it nearly impossible just trying to survive.
Strangely enough, these animals and plants are so well adapted to these two different seasons, that if we were to suddenly change them around it would cause chaos for the Everglades' wildlife.
In other words, the Everglades would be out of balance.