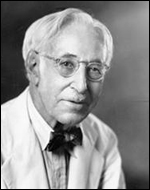 Ernest F. Coe was very important to our park's history.
Mr. Coe was a landscape architect who loved the outdoors. The Everglades fascinated him.
Since it was of particular interest to him, he made it his life's goal to protect the Everglades by setting up a national park.
To reach this goal, he created an association (kind of like a club with members) in 1928 to work on making the Everglades a national park. This association was called the Tropical Everglades National Park Association. Later, it was renamed as Everglades National Park Association.
In 1934, Congress was persuaded by all the members of the association to designate Everglades as a national park. However, they had to come up with both the land and the funding needed for the park. That took another 13 years to acquire before Everglades officially became a national park in 1947.
To learn more about Coe's work visit the
Ernest F. Coe Visitor Center, Everglades National Park's main visitor center named in his honor.