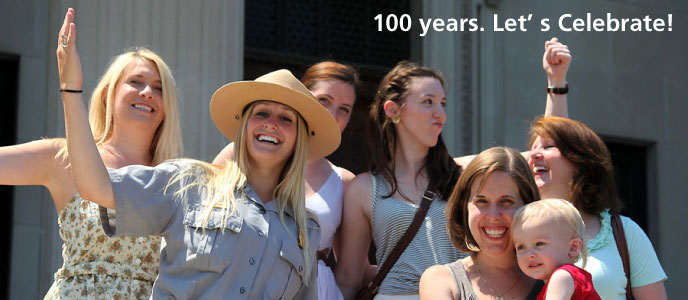 Photo-NPS/Bill Urbin
New York's Hudson—America's Valley: Photographs by Ted Spiegel
Through April 30, 2016, Vanderbilt Mansion National Historic Site, Pavilion Visitor Center Gallery
A photojournalist with an international portfolio, Ted Spiegel has an especially profound eye for capturing
the Hudson Valley's character, history and natural splendor. This selection of his work demonstrates how
the Hudson River and its surrounding lands have shaped America's heritage while continuing to enchant
and inspire. More....
Angela Fraleigh: Lost in the Light (Watch Video)
Through May 25, 2016, Contemporary Art Exhibit in the Vanderbilt Mansion
Fraleigh's complex paintings of the women who lived and worked on the estate explore power dynamics, highlighting the lack of autonomy women had during the Gilded Age. Contemporary paintings are exhibited in the historic rooms of the Vanderbilt Mansion. Admission ticket for guided tour is required to see the installation. Meet the Artist, February 14, 2016 from 2:00 - 3:00 PM More....
Douglas Brinkley Book Launch
March 14, 2016 Reservations Required, Henry A. Wallace Visitor & Education Center

Douglas Brinkley's upcoming book Rightful Heritage: FDR and the Land of America will be released in Spring 2016. Brinkley will talk about his new book and FDR's conservation legacy.
Student Art Project (Celebrating 100 Years)

April 1 - May 30, Henry A. Wallace Visitor & Education Center

This art project, in partnership with the "Dream Rocket Project" launched in 2009, is collecting thousands of artworks from various regions of the world. Eventually, all submissions will be connected side by side to wrap the skeleton of a 385 Space Launch System (SLS) rocket replica. This wrapped SLS will be placed on temporary exhibit at locations around the United States. The SLS is NASA's dream rocket, representing their dream of going to Mars and beyond.
"The World Made New" with Facing History and Ourselves
April 15 - 16, Henry A. Wallace Visitor & Education Center

This two-day workshop will explore three efforts to rebuild the world community after World War II and the Holocaust with focus on Eleanor Roosevelt's role in creating the Universal Declaration of Human Rights. To register for this workshop please go to, Teaching The Hudson Valley
Hyde Park Trail "Walkabout" Kick-Off

April 16, 1pm, Meet at Vanderbilt Parking Lot
Kick off the 25th year of Hyde Park Trails with a guided hike on the original, 3-mile section of Hyde Park Trail between the FDR and Vanderbilt sites. We'll meet at Vanderbilt. A guided, 3-mile group will take a shuttle from Vanderbilt to the starting point at the FDR site. For those preferring a longer walk, a guided 6-mile group will start from Vanderbilt and hike to FDR and back.
Hands in Dirt Workshops
April 26, 9am - Dividing Perennials; May 10, 9am - Staking; June 28, 9am - Dividing Iris; August 16, 9am - Weeding; all workshops at Beatrix Farrand Garden at Bellefield
This series of workshops offers detailed instruction on techniques of gardening and maintenance throughout the growing season. As the title of the workshops suggest these workshops are hands-on and participants have the opportunity to practice techniques while they are learning. Presented by the Beatrix Farrand Garden Association.
End2End Hike
June 4, Vanderbilt Mansion National Historic Site
Run, hike or walk the Hyde Park Trail from Top Cottage to Vanderbilt Mansion. Bring everything you need for a 9 mile day of hiking. Park at Vanderbilt Mansion and we'll shuttle you up to the starting point (Top Cottage). The hike will finish at Vanderbilt Mansion. Finishers will earn the 2016 Walkabout trail patch.
Annual Val-Kill Picnic
June 4, Eleanor Roosevelt National Historic Site (Val-Kill)
Kick off the summer season at Val-Kill with a Val-Kill Picnic and Square Dance. Music, delicious food, drink, and kids activities. Square dancers of all abilities, and ages are welcome. Sponsored by the Eleanor Roosevelt Val-Kill Partnership.
10th Annual Bellefield Design Lecture
June 5, 2pm, Henry A. Wallace Visitor and Education Center
Lecture by Paula Deitz, a frequent contributor to the New York Times, Architectural Review, and Gardens Illustrated and author of the acclaimed book Of Gardens, a collection of her writings on gardens from around the world, and their intellectual, historical, and aesthetic significance. Reception, Heirloom Plant Sale & Garden Boutique follow the lecture in the Beatrix Farrand Garden at Bellefield.
Eleanor Roosevelt's Birthday & Gravesite Ceremony
October 11, 3pm, Home of Franklin D. Roosevelt National Historic Site
Celebrate Eleanor Roosevelt's birthday with us. Remarks, followed by a wreath laying ceremony. Birthday Cake and beverages will be served in the Wallace Visitor Center at the conclusion of the ceremony.
Every Kid in a Park Welcomes 4th Graders
Through August 31, 2016, all National Parks

Federally managed sites in the Hudson Valley invite all fourth graders to visit free as part of the White House's new Every Kid in a Park program. Students may go to any NPS site or to www.everykidinapark.gov, complete an activity, and obtain a pass good through August 31, 2016.
Event Results
Sorry, but there are no events that match your search criteria.