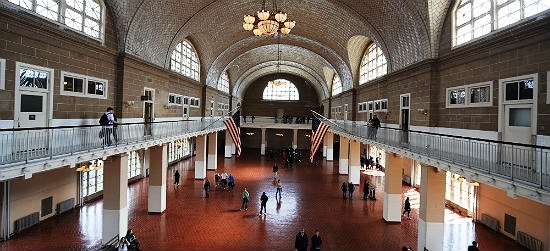 NPS PHOTO

More than 12 million immigrants entered the United States through Ellis Island, the nation's chief gateway during the years 1892 to 1924. Today, over 100 million Americans can trace their ancestry to the immigrants who crossed this island before dispersing to points all over the country.
Following restoration in the 1980s, this building reopened as the Ellis Island Immigration Museum, a symbol of this nation's immigrant heritage. The museum exhibits chronicle Ellis Island's role in immigration history, and view it in the context of its time and the still broader context of four centuries of immigration to America.
The exhibits also portray and give voice to the immigrants themselves. Each of their stories is unique, and bears witness to the courage and determination that enables men and women to leave their homes and seek new opportunities in an unknown land.
Due to the nature of the destruction caused by Hurricane Sandy, a few parts of the historic Main Building and museum remain closed. Please note the following:
Limitations:
Most exhibit areas are open, the artifacts normally on display remain in storage and are not available to be viewed.
No access to the Treasures from Home Exhibit on the 3rd Floor
Education programs Shore to Shore and GameZone, as well as Ellis Island 101 and 'Island of Hope, Island of Tears' Documentary Film reserved programs for school groups are not available due to space and staffing limitations.

For school groups who are still able to visit, we are offering some limited self-guided and interactive activities. Please inquire at the Information Desk or with a park ranger for availability and options on the day you are visiting.
For more information, please read this press release.