Ellis Island is open on a limited basis while repairs continue.

Ellis Island has reopened on a limited basis. Due to the nature of the destruction caused by Hurricane Sandy parts of the historic Main Building and museum, including most of the exhibits and both elevators, remain closed at this time. More »
Plan Your Visit
Visitor Alert:
Ellis Island is pleased to have reopened on a limited basis. However, due to the nature of the destruction caused by Hurricane Sandy, many parts of the historic Main Building and museum remain closed. Please note the following:
Open/Available:
Baggage Room (Historic Area on the 1st Floor)

Registry Room/Great Hall (Historic Area on the 2nd Floor)

Peopling of America (Exhibit on the 1st Floor)

Theater 1 (hourly presentations of the Island of Hope, Island of Tears documentary; 1st Floor)
The American Family Immigration History Center (search ship manifests via ellisisland.org; 1st Floor)

Audio Tour (limited audio tour; pick up and drop off on the 1st Floor)

Gift Shop (1st Floor)
The American Immigrant Wall of Honor on the outside grounds
Limitations:
No elevator

Very limited food service; very limited space to eat

No access to the 3rd Floor (Exhibits Ellis Island Chronicles, Treasures from Home, Silent Voices, Restoring a Landmark, Dormitory Room, and Balcony are all closed)

Limited access to the 2nd Floor (Exhibits Peak Immigration Years and Through America's Gate and Theater 2 are closed)

Education programs Shore to Shore and GameZone, as well as Ellis Island 101 and 'Island of Hope, Island of Tears' Documentary Film reserved programs for school groups are not available due to space and staffing limitations.

For school groups who are still able to visit, we are offering some limited self-guided and interactive activities. Please inquire at the Information Desk or with a park ranger for availability and options on the day you are visiting.
As you plan your visit, keep in mind that:
Your visit will be more similar to that of an immigrant a century ago! Most immigrants were limited to the Baggage Room, Registry Room (the Great Hall) and the Railroad Ticket Office (now houses the Peopling of America Exhibit) during their short time on Ellis Island.
You can still experience where history happened in the Great Hall! In that historic space, millions of people passed their medical and legal inspections and were allowed to enter the United States to start a new life.
Continue exploring this website for more information.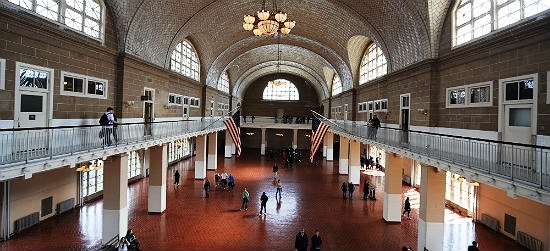 NPS PHOTO
Over 12 million immigrants entered the United States through Ellis Island, the nation's chief gateway during the years 1892 to 1924. Today, over 100 million Americans can trace their ancestry to the immigrants who crossed this island before dispersing to points all over the country.
Following restoration in the 1980s, this building reopened as the Ellis Island Immigration Museum, a symbol of this nation's immigrant heritage. The museum exhibits chronicle Ellis Island's role in immigration history, and view it in the context of its time and the still broader context of four centuries of immigration to America.
The exhibits also portray and give voice to the immigrants themselves. Each of their stories is unique, and bears witness to the courage and determination that enables men and women to leave their homes and seek new opportunities in an unknown land.

Ellis Island Immigration Museum is located on Ellis Island in New York Harbor. Despite the icon, you can't drive here.

Ellis Island is open every day except December 25. Hours change seasonally.

There is no entrance fee. However, this national park is located on two islands which are accessible by ferry only via Statue Cruises. Buy your tickets in advance.

Exploring the Ellis Island Museum
Learn about the experiences of immigrants who came through Ellis Island and explore the history of immigration to the United States.

Ellis Island offers accessibility services, including borrowing wheelchairs on a first-come, first-served basis. Ask at our Information Desk.

The museum is largely an indoor activity, but a stroll outdoors reveals the Wall of Honor and the remnants of an historic fort..

Things To Know Before You Come
To board the ferry, visitors must go through airport-style security. Once you arrive, there's plenty to discover.


Did You Know?

Ellis Island's south side contains 25 buildings that are mostly unrestored. These structures included general hospitals, isolation and psychiatric facilities for immigrants needing treatment or isolation. The U.S. Public Health Service staffed these facilities during the station's operation. More...