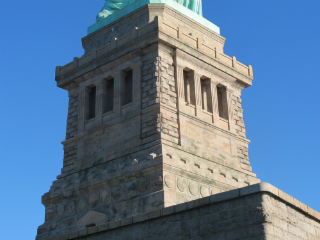 PLANNING YOUR VISIT TO THE PEDESTAL
Visiting the pedestal is a great addition to any trip to the Statue of Liberty. Starting in 2004, the National Park Service implemented a new system that requires reservations to access the pedestal. This reservation system is much different than how the public accessed the pedestal prior to 2001. The procedure for reserving pedestal tickets and accessing the pedestal is detailed below.
RESERVE YOUR PEDESTAL TICKETS
Due to its popularity, access to the pedestal is limited and requires reservations.
Statue Cruises
is the official source for pedestal reservations as well as the company that provides ferry transportation to the island. Advanced reservations may be made online or by telephone.
Extremely limited pedestal reservations may be available at the ticket offices early in the day.
Pedestal reservations are not available on Liberty Island.