How Much Time Do You Have?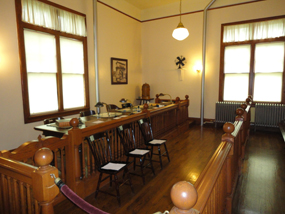 NPS Photo
A Few Minutes to An Hour?
Visit the Registry Room on the second floor. Also known as the "Great Hall", this is the heart of Ellis Island. Millions of immigrants were "processed" through this room from 1900 through the early 1920s.
At the west end of the Registry Room, walk down the Stairs of Separation. Read the brass plaque that explains why the stairs are separated and notice the wear on the original steps. At the bottom of the Stairs of Separation, turn left to return to the Baggage Room and the museum exit.
If you have a bit more time, visit "Through America's Gate" before walking down the Stairs of Separation. This exhibit chronicles the immigrant's experience, step by step, at Ellis Island. The exhibit begins in the southwest corner of the Registry Room.
Other activities include:
Park Ranger tour (free, 30 minutes)
Audio Tour (free, minimum 45 minutes)
"Island of Hope, Island of Tears" documentary (free, 35-minute program)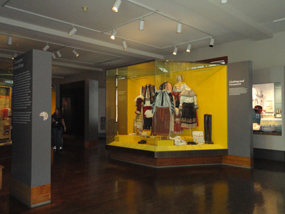 NPS Photo
Two to Three Hours?
You can supplement any of the above activities by visiting our third-floor exhibit galleries.
"Treasures From Home" - A collection of belongings that Ellis Island immigrants brought from their homelands.
"Ellis Island Chronicles" features the geographic history of Ellis Island through photographs, documents, and models.
"Silent Voices" and "Restoring A Landmark" showcase the Ellis Island Immigration Station after its closure in 1954 and reveal how the Main Building was restored.
A restored "Dormitory Room" and historic photographs of the Registry Room are also on the third-floor balcony overlooking the "Great Hall".
If there is a temporary exhibit in our third-floor "Changing Exhibits Gallery", you are welcome to enjoy it.
You might also be able to fit in "Peak Immigration Years". This exhibit, on the east side of the second floor, explores the reasons people had for immigrating, where they came from, how they got here, and the challenges they encountered in America.
A Half-Day or More?
You'll probably be able to enjoy most, if not all, of the activities listed above, including a Ranger-Guided Tour and the documentary, "Island of Hope, Island of Tears". Be sure to visit "Journeys: The Peopling of America 1550-1890" exhibit on the first floor-north and "Journeys: New Eras of Immigration and the Citizenship Gallery," first floor-west.
Many visitors begin on the third floor and work their way down through the exhibits, making sure not to miss a visit to the Registry Room.
Tour and movie times, as well as brochures (containing a floor plan), can be found at the Information Desk in the Baggage Room on the first floor.
Floor plans (dark gray and labeled "Directory") can be found throughout the museum, primarily near the stairwells.
There are stairs in every corner of the main space on each level (Baggage Room, Registry Room, and third-floor balcony).
There are elevators at either end of the Main Building.