Ellis Island is open on a limited basis while repairs continue.

Ellis Island has reopened on a limited basis. Due to the nature of the destruction caused by Hurricane Sandy parts of the historic Main Building and museum, including most of the exhibits, remain closed at this time. More »
Guided Tours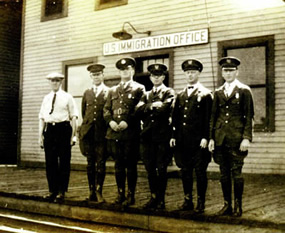 U.S. Customs and Border Protection
FREE Ranger-Guided Tours: A National Park Service Ranger and dedicated Volunteers-in-Park (NPS VIPs) lead walking tours of the museum. The tours are approximately 45 minutes.
Tours chronicle island history and explain what many immigrants experienced at the facility during its busiest years of operation. Tours depart from near the information desk on the top of the hour. The numbers of tours offered vary based upon daily staffing levels. TICKETS ARE NOT REQUIRED for walking tours.


Did You Know?

During the island's 62 years of operation, over 12 million immigrants were processed at Ellis Island, including quite a few who went on to become famous such as: Frank Capra, Bela Lugosi, Baron Von Trapp, Irving Berlin, Max Factor, Claudette Colbert, Rudolph Valentino, Igor Sikorsky and Bob Hope.