Guided Tours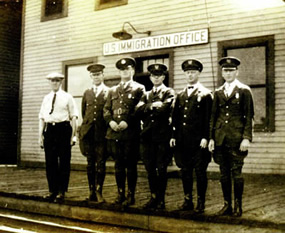 U.S. Customs and Border Protection
FREE Ranger-Guided Tours: A National Park Service Ranger and dedicated Volunteers-in-Park (NPS VIPs) lead walking tours of the museum. The tours are approximately 45 minutes.
Tours chronicle island history and explain what many immigrants experienced at the facility during its busiest years of operation. Tours depart from near the information desk on the top of the hour. The numbers of tours offered vary based upon daily staffing levels. TICKETS ARE NOT REQUIRED for walking tours.


Did You Know?
In its time, Ellis Island was the busiest federal immigration station in America. In 1907, Ellis Island processed 1,004,756 immigrants, a record number for the Immigration stations. April 17, 1907 was the Island's busiest day, when 11,747 immigrants were processed. Today, the US Customs and Border Protection processes over 700,000 visitors daily through 326 official Ports of Entry. More...