Guided Tours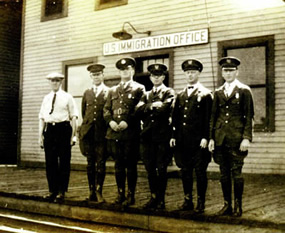 U.S. Customs and Border Protection
FREE Ranger-Guided Tours: A National Park Service Ranger and dedicated Volunteers-in-Park (NPS VIPs) lead walking tours of the museum. The tours are approximately 45 minutes.
Tours chronicle island history and explain what many immigrants experienced at the facility during its busiest years of operation. Tours depart from near the information desk on the top of the hour. The numbers of tours offered vary based upon daily staffing levels. TICKETS ARE NOT REQUIRED for walking tours.


Did You Know?

On July 30, 1916, a major explosion at the railway terminals on the Black Tom Wharf in Jersey City did considerable damage to the Ellis Island buildings. The walls, ceilings, roofs and foundations of the hospital buildings were weakened, and many windows, casings and doors were blown out. The repairs to the facilities took about a year at a cost of nearly $400,000.00(about $8,333,333.33 in 2012).