Ellis Island Closed Until Further Notice

As of May 2013: Due to the conditions caused by Hurricane Sandy, the Ellis Island Immigration Museum will be closed until further notice. A projected reopening date has not yet been established, follow our twitter account for updates. More »
Guided Tours
Visiting Ellis Island
Update as of March 20, 2013: Due to extensive damage sustained during Hurricane Sandy, Ellis Island is closed indefinitely. Statue of Liberty will re-open on July 4, 2013.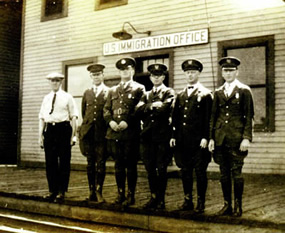 U.S. Customs and Border Protection
FREE Ranger-Guided Tours: A National Park Service Ranger and dedicated Volunteers-in-Park (NPS VIPs) lead walking tours of the museum. The tours are approximately 45 minutes and are accessible for handicapped visitors.
Tours chronicle island history and explain what many immigrants experienced at the facility during its busiest years of operation. Tours depart from near the information desk on the top of the hour. The numbers of tours offered vary based upon daily staffing levels. TICKETS ARE NOT REQUIRED for walking tours.
FREE Ferry Building Tour: This free one-hour program is conducted in the building that was reopened in 2007 after undergoing restoration. The exhibit entitled "Future In Balance: Immigration, Public Health and the Ellis Island Hospitals" chronicles the story of the United States Public Health Service, its employees and immigrants treated for a variety of illnesses. Visitors must sign up for the program as spaced is limited. Tours are offered Tuesdays, Thursdays, Fridays and some weekends at 11:30 AM and 2:30 PM - volunteer staffing levels permitting.
For additional information, call Save Ellis Island, the National Park Service partner entrusted for the rehabilitation and reuse of the unrestored hospitals at 973-347-8400 ext 17.


Did You Know?
Annie Moore was the first immigrant processed at Ellis Island on January 1, 1892, after she arrived from Ireland on the SS Nevada. Charles Hendley of the Secretary of the Treasury's office inspected Annie, she was then given a $10 gold coin by Immigration Superintendent Colonel John Weber.