Ellis Island is open on a limited basis while repairs continue.

Ellis Island has reopened on a limited basis. Due to the nature of the destruction caused by Hurricane Sandy, parts of the historic Main Building and museum remain closed at this time. The museum's artifacts remain in off-site storage. More »
Guided Tours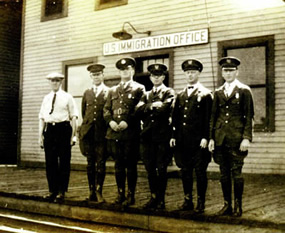 U.S. Customs and Border Protection
FREE Ranger-Guided Tours: A National Park Service Ranger and dedicated Volunteers-in-Park (NPS VIPs) lead walking tours of the museum. The tours are approximately 45 minutes.
Tours chronicle island history and explain what many immigrants experienced at the facility during its busiest years of operation. Tours depart from near the information desk on the top of the hour. The numbers of tours offered vary based upon daily staffing levels. TICKETS ARE NOT REQUIRED for walking tours.


Did You Know?

From 1910 to 1940, the Angel Island Immigration Station in San Francisco Bay processed approximately 1 million Asian immigrants entering into the US, leading to it sometimes being referred to as "The Ellis Island of the West". Due to the restrictions of the Chinese Exclusion Act of 1882, many immigrants spent years on the island, waiting for entry. Access to the island is by private boat or public ferry from San Francisco, Tiburon or Vallejo. Ferry services are reduced during the winter. More...