Elevator Notice

Elevator maintenance will occur on October 22 and 23, 2014. As a result, there will be NO elevator service on Ellis Island.
Guided Tours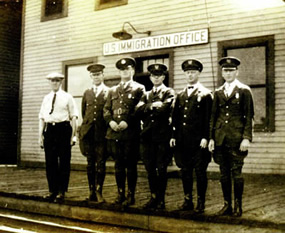 U.S. Customs and Border Protection
FREE Ranger-Guided Tours: A National Park Service Ranger and dedicated Volunteers-in-Park (NPS VIPs) lead walking tours of the museum. The tours are approximately 45 minutes.
Tours chronicle island history and explain what many immigrants experienced at the facility during its busiest years of operation. Tours depart from near the information desk on the top of the hour. The numbers of tours offered vary based upon daily staffing levels. TICKETS ARE NOT REQUIRED for walking tours.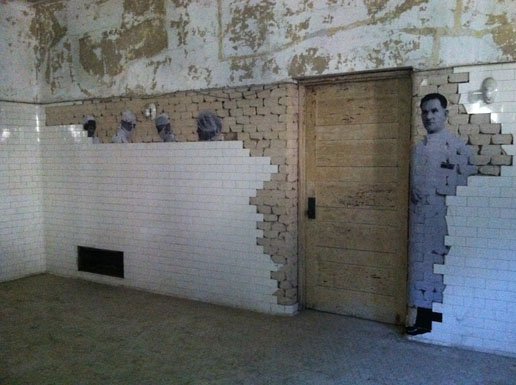 National Park Service
SPECIAL - Hard Hat Tours of the Hospital Complex: Guided 90-minute tours will take you to select areas of the 750-bed Ellis Island Hospital Complex.
Visit the Laundry Building, with much of its original equipment still in place, where more than 3,000 pieces of laundry were washed and sanitized daily, infectious and contagious disease wards, kitchen, staff housing, autopsy room and more. As part of the tour opening, an art exhibit, "Unframed –Ellis Island," by renowned artist JR will be on display throughout the hospital complex. The exhibit features life size historic photographs of Ellis Island immigrants installed on 22 interior walls. JR is known throughout the world for his "Pervasive Art" exhibitions which are designed to raise questions.
Tickets are $25 per person and are available on the Statue Cruises website, or by calling 1-877-LADYTIX (1-877-523-9849). This hard hat tour is for ages 13 and older.
This program was developed and is administered by Save Ellis Island, Inc., a partner of Statue of Liberty National Monument and Ellis Island. All proceeds from the tour will go to the restoration and preservation of the unrestored historic south side buildings.
Read the News Release.


Did You Know?

Since the passage of the "Steerage Act of 1819", passenger manifests have been required for all arriving vessels to be delivered to the U.S. Government and reported to Congress. This document, used for inspection at Ellis Island, has become an important starting point in researching family history.