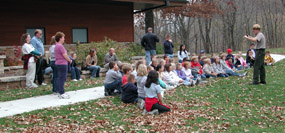 NPS Photo

School Field Trip Visits
For over forty years, thousands of school students have visited the Monument annually to participate in our educational programs.
We try to accommodate educational program requests for students on a reservation basis, at the park. We also provide information and materials to facilitate teacher-led self guided class visits.
Take advantage of this opportunity for your students to learn about America's nationally significant cultural and natural resources located in northeast Iowa.
A detailed description of our program and resources is listed on the "Plan A Field Trip" page. If more information on reserving a ranger conducted program is needed - contact the Monument at 563.873.3491 Ext. 251, or by e-mail at www.nps.gov.
A phone call is always welcome and your message will be forwarded to the responsible staff.

=============================

* E-MAIL REQUESTS FOR MAILING (GENERAL) PRINTED PARK INFORMATION:





This information can be copied, printed and / or .



The materials we mail out upon request are: the one page (double sided) full color park brochure, calendar of events, a few of the posted "site bulletin" publications and the teacher's curriculum guide publication (ALL of these are available in pdf for ).





Specific topical / research requests are welcome and handled on a case by case basis.

==============================