Frequently Asked Questions

NPS Photo
Are the scenic views of the upper Mississippi River Valley comparable to those of the Grand Canyon of the Colorado River?
Well, you might just be surprised! Yes, Grand Canyon is one of the seven Natural Wonders of the World and a World Heritage Site. However, many NPS sites feature resources of astounding natural beauty and profound cultural importance. Bluff overlooks of the upper Mississippi River Valley at Effigy Mounds National Monument include the confluence of the Wisconsin and Mississippi Rivers; the contact point between Europeans and American Indians along the upper Mississippi River in 1673. Due to its importance in the history of the "New World", this stunning geographical feature attracts visitors from around the globe.

NPS Photo
Just what is an "effigy mound" anyway?
An "effigy" is a full or partial representation, especially of a person; "effigy mounds" are commonly defined as a prehistoric American Indian mound shaped like an animal.
This can lead into other questions such as what is "history", "prehistoric" and are effigy mounds also "burial" mounds?

What do the effigy mounds represent?
Clues can be found in American Indian legends and mythology and to a lesser extent, scientific research. The stories and legends of the Native Americans whose ancestors built the mounds describe the effigy mounds as ceremonial and sacred sites. Archeologists believe the effigy mounds delineated territories of choice gathering and hunting grounds. Unfortunately, much of the data is inconclusive.
How do I get to Effigy Mounds National Monument ?

The site is located in northeast Iowa along the upper Mississippi River, four miles north of Marquette on Highway 76. The Monument lies (almost) exactly between Dubuque, Iowa and La Crosse, Wisconsin. U.S. Highway 18 crosses the upper Mississippi River at Marquette to Prairie du Chien, Wisconsin.
Does it cost anything to enter Effigy Mounds National Monument ?
No.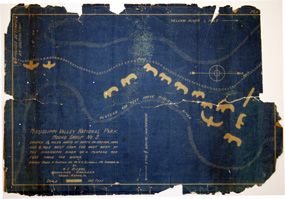 National Park Service
When and why did Effigy Mounds National Monument become part of the National Park System?
Effigy Mounds National Monument was authorized on October 25, 1949, when President Harry Truman, using the provisions of the 1906 Antiquities Act, signed a proclamation declaring "the earth mounds in northeastern part of the State of Iowa known as the Effigy Mounds are of great scientific interest because of the variety of their forms, which include animal effigy, bird effigy, conical, and linear types, illustrative of a significant phase of the mound building culture of prehistoric American Indians". On May 27, 1961, an Act to include 272 new acres to the Monument added the mission to "protecting existing wildlife and other natural values.
The authorization of the Monument was a culmination of a 40-year effort, interrupted by two world wars, to establish a national park along the upper Mississippi River in Iowa. A national parks movement was beginning to gain public support throughout the United States by the 1890s. As public interest in conservation and parks gained a foothold, political support for a national park in Iowa developed. In 1909, George H. Schulte, the state representative from Clayton County, addressed the Iowa General Assembly in support of a national park near McGregor.
In 1932, the National Park Service rejected the need for a national park this area. As an alternative, it was suggested that a portion of the remaining Indian mounds along the Mississippi River bluffs be protected as a National Monument. National Park Service Director Horace M. Albright stated:
What kinds of activities are available at Effigy Mounds National Monument ?

Visitors learn about diverse natural habitats and ancient American Indian mound building cultures through a 15-minute film, a museum exhibit of ancient American Indian artifacts and a bookstore located in the visitor center. Several conical (round) shaped burial mounds are located near to this facility.
You may walk an accessible boardwalk trail of hike the trails up the bluff features of the Monument. There are no bicycles on the trails. The park is open daily, weather permitting, sunrise to sunset. You do not need to be accompanied by a ranger .
Viewing Indian mounds, scenic vistas and natural features such as wildflowers, birds and prairie are the most popular activities at the Monument.


Optional ranger led walks, talks, hikes and other public educational programs are offered intermittently throughout most of the year.


Please check the "Plan Your Visit"link for specific dates and times for all of our programs and rangerled activites.


There are no archeological "digs" conducted on Indian cultural sites or picnic tables located within the Monument to maintain an adequate level of respect for this sacred site. Visitors are welcome to informally picnic on the visitor center area lawn. There are picnic facilities located south of the Monument along the Mississippi River on Hwy 76.
When is the best time to visit the Effigy Mounds National Monument ?


Effigy Mounds is a great place to visit anytime of the year. There is snowshoing in the winter and hiking spring, summer and fall.
What is the weather like in the area?


Spring and fall are pleasant and mild.
Summers can be hot and humid with daytime temperatures commonly in the mid-80s to low- 90s and sometimes humid.
Winters can be very cold with daytime temperatures in the high 20s and low 30s with snow and ice. The Mississippi River usually freezes over for long periods - making ice fishing the most popular outdoor activity each winter.
Can I bring my dog with me when I visit the area?


Dogs are allowed on the grounds but must be leashed at all times. Only service dogs will be allowed into the visitor center.
How many people visit the site?


About 95,000 people visit each year, but probably not on the same day you will be here!
Firearms and other weapons
Legislation: As of February 22, 2010, a new federal law allows people who can legally possess firearms under applicable federal, state, and local laws to legally possess firearms in this park.
Park User Responsibility: It is the responsibility of visitors to understand and comply with all applicable state, local, and federal firearm laws before entering this park. Please note that Iowa does not recognize any other state's concealed weapons permits.


Weapons Prohibited in Federal Facilities: Federal law also prohibits firearms in certain facilities in this park; those places are marked with signs at all public entrances.
Where can I get more information about visiting Effigy Mounds National Monument?

You can print or download most of the information you need off this website, however, we will be happy to send you a brochure and calendar of events by writing:



Interpretation Staff
Effigy Mounds National Monument
151 HWY 76
Harpers Ferry IA 52146

Phone: 563.873.3491 ext. 202

e-mail: efmo_interpretation@nps.gov

This information can be copied, printed and / or downloaded.


The materials we mail out upon request are: the one page (double sided) full color park brochure, calendar of events, a few of the posted "site bulletin" publications and the teacher's curriculum guide publication.


Specific topical / research requests are welcome and handled on a case by case basis.