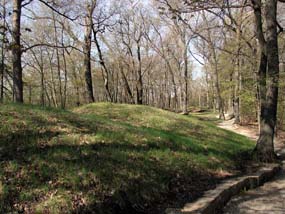 NPS Photo
Earthshapers Film


The Monument's 15-minute film about how and why earthen American Indian mounds, especially effigy mounds were built. The film is suitable for our indicated range of students - third grade and up.
Trail Hikes

A two-mile hike along the Fire Point Trail leads to over 20 mounds, including conical, linear, compound (linear and conical combined as one mound) and effigy. This activity interprets the lives of woodland moundbuilding peoples, their use of and impact on the environment and how this relates to us today.
A one-mile walk along an accessible boardwalk trail leading into a wetland is also available. A visit to three conical burial mounds (no effigies) is included in this activity.
Museum Tour

The museum includes a display of American Indian artifacts up to 2,000 years old.
Stones, Bones and Sticks

Hands on activity featuring a variety of ancient tools used by the moundbuilding cultures made from stones, bones and sticks! We include those made from other materials as well such as pottery.
Cultural Demonstrations

Students learn about weapons developed and used by the moundbuilders that enabled them to successfully hunt large animals such as deer, bison and elk. Programs include rangers demonstrating the traditional use of weapons such as the "atlatl", or spearthrower.*
* Students and other visitors observe only; we cannot allow persons to handle and operate the complete weapon (launching a spear with the atlatl) due to safety concerns and NPS historic weapons policy.