Effigy Mounds National Monument might be hiring seasonal interpreters, bio-tech and maintenance laborer positions for the summer. Permanent positions become vacant occasionally. The application process varies for each job; please read the job announcements, which will be posted on USAJOBS, the official job site of the U.S. federal government, for details.
* All current federal civil service jobs announcements (including Effigy Mounds jobs when open) are posted on the USAJobs website: www.usajobs.gov
Current Vacancies: Effigy Mounds National Monument is now hiring for the following positions:
* Librarian Volunteer Needed; some expense reimbursement is available.

Call Merle Frommelt for information: 563.873.3491 Ext. 251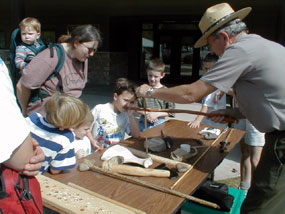 NPS Photo
Employment Opportunities

Effigy Mounds National Monument

The Park:

Effigy Mounds National Monument is located in northeast Iowa along the Mississippi River. The 2,526 acre monument was established in 1949 to protect earthen burial mounds that were built from 800 to 2500 years ago. The mounds are in a variety of shapes including effigy mounds which are in the form of birds of prey and bears. The monument's landscape is being restored to approximate the ecological conditions that existed during the time of the moundbuilders.

Job Opportunities:
If you are interested in working at Effigy Mounds National Monument or other federal government locations) go to www.usajobs.gov for vacancy announcement listings and application procedures.