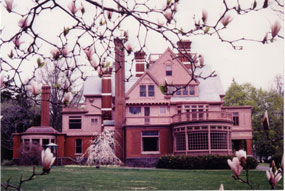 Thomas Edison's home, Glenmont home is not accessible by wheelchair. Also be aware that there a numerous steps throughout the tour of the home. For more information about accessibility around the estate, call the Visitor Center desk at (973) 736-0550.
Thomas Edison National Historical Park welcomes all visitors and strives to ensure that its exhibits, programs, and facilities are accessible to everyone. Rangers are available to assist during your visit. Check in at the Building 1 Visitor Center. If you need special assistance please contact us at least two weeks in advance by calling (973) 736-0550.
Fully trained service animals are permitted throughout the park.
Visual and audible fire alarms are installed in all buildings.
For visitors using wheelchairs or with mobility impairments
Accessible restrooms and drinking fountains are located in Building 1 Visitor Center.

Entrances are wheelchair accessible with ramps. Assistance may be needed in some historic buildings.

The Black Maria at the Laboratory Complex and the Glenmont home are not accessible.
Standard manual wheelchairs are available for loan, free of charge, on a first come, first served basis.
An elevator provides access to the 2nd and 3rd floor of Building 5, the main laboratory building.
Benches are located along the tour route in Building 5, the main laboratory building.
Wheelchair locations with companion seating are available in the auditorium.
Written transcripts of less accessible exhibit panels are available.
Wayside exhibits at the Glenmont Estate are located along paved roads or flat gravel paths.
Cell phone audio tour stops at the Glenmont Estate are accessible from the road.
For visitors with hearing loss
The audio tour at the Laboratory Complex is T-coil compatible. Neckloops are available.

Written transcripts of the audio tour are available for loan.

FM assistive listening devices are available (headsets and neckloops).

Films are open captioned.

A sign language interpreter can be provided with 2 weeks advance notice.

Transcript of Glenmont Estate cell phone audio tour is available on the website.
For visitors with visual impairments
An audio tour is available at the Laboratory Complex (a general tour and a family tour.) It is available in English, Spanish, German and Japanese.
Written transcripts of exhibit panels are available for loan in large print.
Audio versions of some brochures are available.
Touch stations are located in Building 5, the main laboratory building.
A Ranger can provide a descriptive and tactile tour with 2 weeks advance notice.
Over 20 cell phone audio tour stops describe Glenmont Estate buildings and grounds. Audio is available on website.
Picture Guide and Other Aids
Picture Guide - This is a step-by-step photo guide of how to explore our park. To view click Picture Guide . There is a limited supply of Picture Guides for loan at the Visitor Center desk, ask when you arrive.
Access Backpacks - These packs include noise cancelling headphones, a copy of the Picture Guide, and a Junior Ranger booklet. They can be checked out for day use at the Visitor Center desk.
Quiet Space - If during your visit you need a quiet space, we recommend spending time at the far end of the 3rd floor in Building 5. There is a sunny alcove there lined with benches.
Hands-on Resource Boxes -These boxes include items and artifacts that represent the major themes and ideas of our park. These resource boxes can be made available during your visit, if you call in advance. (973)736-0550 ext. 11