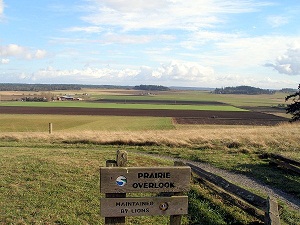 Photo by Ebey's Landing NHR
Ebey's Landing National Historical Reserve was established by Congress in 1978 as a non-traditional NPS unit based on partnerships. The legislation called for the Reserve to be managed by a unit of local government. Administration and management of the Reserve is the responsibility of the Trust Board of Ebey's Landing NHR, which is the unit of local government created by a cooperative planning process between the NPS, the state, county, town governments and the residents of the Central Whidbey island community. The composition of the board includes seven residents appointed by the town and county governments, a representative of State Parks, and a representative from the NPS. The members have four-year appointments which are staggered to ensure continuity on the board. The residents appointed to the board serve as volunteers. The board has a full-time manager, an office manager, and a preservationist. The group promotes sound preservation practices and serves as an advocate for the rich and diverse natural and cultural resources of the Reserve. Since so much land is in private ownership, having trust board members who live and work within the community is helpful in balancing the needs of the community with the protection of the Reserve resources.
Ebey's Landing NHR is the first unit of its kind within the National Park system. Congress intended that the reserve would remain largely under private ownership. To ensure that the riches of the reserve are protected for future generations, the NPS purchases development rights to key sites including portions of the original Ebey donation land claim. The NPS continues to work cooperatively with Washington State Parks, Island County and the Town of Coupeville for the on-going protection of the historic rural landscape. Most of the land in the Reserve is privately owned. There are three state parks within the boundaries of the Reserve, Fort Casey, Fort Ebey and Ebey's Landing state parks. Coupeville is the county seat for Island County government, and serves as a hub for tourist activities as well as holding town of Coupeville and county government offices, the island's hospital, and other special services and businesses.