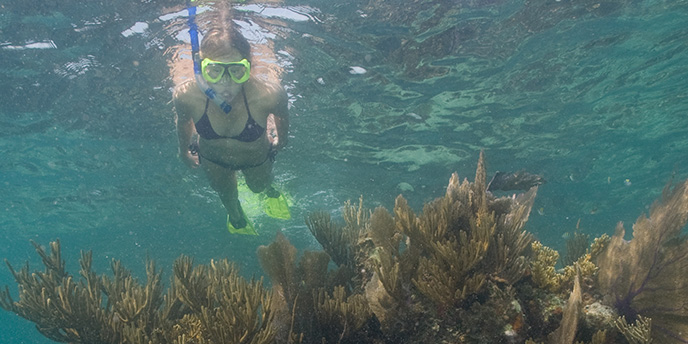 Visitor Center
Information, exhibits, an orientation video, and educational sales items are available. The Visitor Center is open daily.
Touring Fort Jefferson
One of the great pleasures of any visit to the park is the chance to explore Fort Jefferson. Daily 45-minute guided tours are offered by the commercial ferry operators. You can also take a self guiding walking tour by following the signs featuring a Civil War soldier.
Junior Ranger
A Dry Tortugas National Park Junior Ranger program is available. Recommended ages 8-13. Stop by the bookstore for your free copy of the Junior Ranger Handbook.
Snorkeling
A designated snorkel area is located near the campground. Snorkeling along the outside of the moat wall or around the pilings of the south coaling dock is recommended. Before snorkeling, make sure that all equipment fits properly. There are no life guards on duty, so swim at your own risk. No swimming or snorkeling is permitted inside the moat. Make sure never to touch or stand on coral. Carelessness can destroy years of coral growth in seconds. Seagrass beds are a nursery for small fish and marine life. Please keep off.
Fishing
Sport fishing is permitted in certain areas of the park. Lobstering and spear fishing are prohibited in the park. Florida state fishing laws and regulations also apply. Florida fishing license is required.
Walking the Moat Wall
The Moat Wall offers an easy hike (0.6 miles) around the fort. Walking the moat wall is a great opportunity to view coral, fish, and other marine life.
Boating
Private boaters can visit the park. Nautical charts are sold at the park's Visitor Center and in Key West. Information is obtainable from the Key West U.S. Coast Guard Station, the Chamber of Commerce, and the Charter Boat Association. Boaters should be aware of the possibility of extremely rough seas. Check with a ranger for rules on docking and mooring.
Bird Watching
The Dry Tortugas are renowned for spring bird migrations and tropical bird species. Stop by the bookstore for a free Dry Tortugas Bird Checklist.