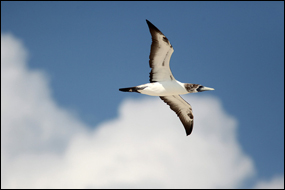 Photo courtesy of Judd Patterson, www.juddpatterson.com
Although the opportunity to experience natural sounds is important to humans for a meaningful visitor experience, the ability to hear sounds may spell the difference between life and death for park wildlife. What prey species would not benefit from being able to hear the approach of a predator sneaking up from behind? Conversely, a hungry predator may miss the rustle of nearby prey if it is drowned out by human-caused noise. Distant airplane, helicopter, automobile traffic, and other machinery noise, and even the sound of human voices and activities, can obscure sounds that may be critical to the survival of wildlife. Not being able to hear natural sounds distinctly may prevent wildlife from being able to distinguish songs from potential mates. Natural sounds are vital to the natural functioning of park ecosystems. The opportunity to adequately evaluate natural soundscapes is important for:
Animal communication
Territory establishment and finding suitable habitat
Courtship and mating
Nurturing and protecting young
Effective use of habitat
Although the effects of noise on wildlife are incompletely understood, wildlife has been found to suffer adverse physiological and behavioral changes from noise and other human disturbances. Noise can have important implications for the health and vitality of wildlife populations. Protecting the integrity of natural soundscapes affords wildlife a better chance at reproduction and survival. Learn more about in the national parks.