Scotty's Castle is CLOSED until further notice due to flood damage. Please contact 760-786-3280 for more information.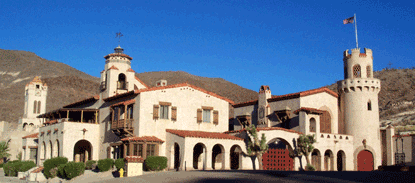 Plan Your Visit | Scotty's Castle Area
Hidden in the green oasis of Grapevine Canyon in far northern Death Valley, the Death Valley Ranch, or Scotty's Castle as it is more commonly known, is a window into the life and times of the Roaring '20s and Depression '30s. It was and is an engineer's dream home, a wealthy matron's vacation home and a man-of-mystery's hideout and getaway.
Walter Scott, Death Valley Scotty, convinced everyone that he had built the castle with money from his rich secret mines in the area. Albert Mussey Johnson actually built the house as a vacation getaway for himself and his wife Bessie. Scotty was the mystery, the cowboy, and the entertainer, but he was also a friend. Albert was the brains and the money. Two men as different as night and day, from different worlds and with different visions - who shared a dream.
Scotty's Castle the fantasy house and Scotty's Castle the story are available every day. Take a living history tour and step back into 1939.
"Moonlight anywhere is a delight. But there's no moonlight in the world that can compare with the moonlight in Grapevine Canyon, our desert canyon, where the Castle stands."
-quote by Mrs. Bessie Johnson from Death Valley Scotty by Mabel © 1932
Scotty's Castle Tours

Ranger-guided tours are the only way to see the interior of Scotty's Castle. Same-day tour tickets are sold at the Scotty's Castle Visitor Center, first-come, first-served. Avoid long waits by making reservations at
Recreation.gov
or by calling 877-444-6777 at least one day in advance.
House Tours
visit both floors of Scotty's Castle. See original furnishings, and learn about the castle's original residents.
Underground Tours
visit the basement and tunnels under Scotty's Castle. Learn about innovative uses of technology that allowed Scotty's Castle to be nearly self-sufficient.
The
Lower Vine Hike
visits Scotty's actual house at the Lower Vine Ranch. Learn about Albert Johnson's use of this land and how Scotty's humble residence compared to his great personality.
Services
Scotty's Castle is a day-use area only. The castle grounds are currently open daily from 9 AM to 3:45 PM. The grounds are CLOSED to all vehicles and pedestrians after hours, when the parking lot gate is locked. Overnight camping is prohibited.
The Scotty's Castle Visitor Center is open daily in cooler months, and only open Friday through Monday from May through August. The visitor center should be your first stop to inquire about touring Scotty's Castle. You can explore exhibits about the castle's buildings and the people involved in its construction. The
Death Valley Natural History Association
operates a bookstore and sells snacks, sandwiches and drinks.
No gasoline is available at Scotty's Castle. The nearest fuel is available at Stovepipe Wells (45 miles), Furnace Creek (53 miles), Beatty, Nevada (60 miles) and Tonopah, Nevada (88 miles).