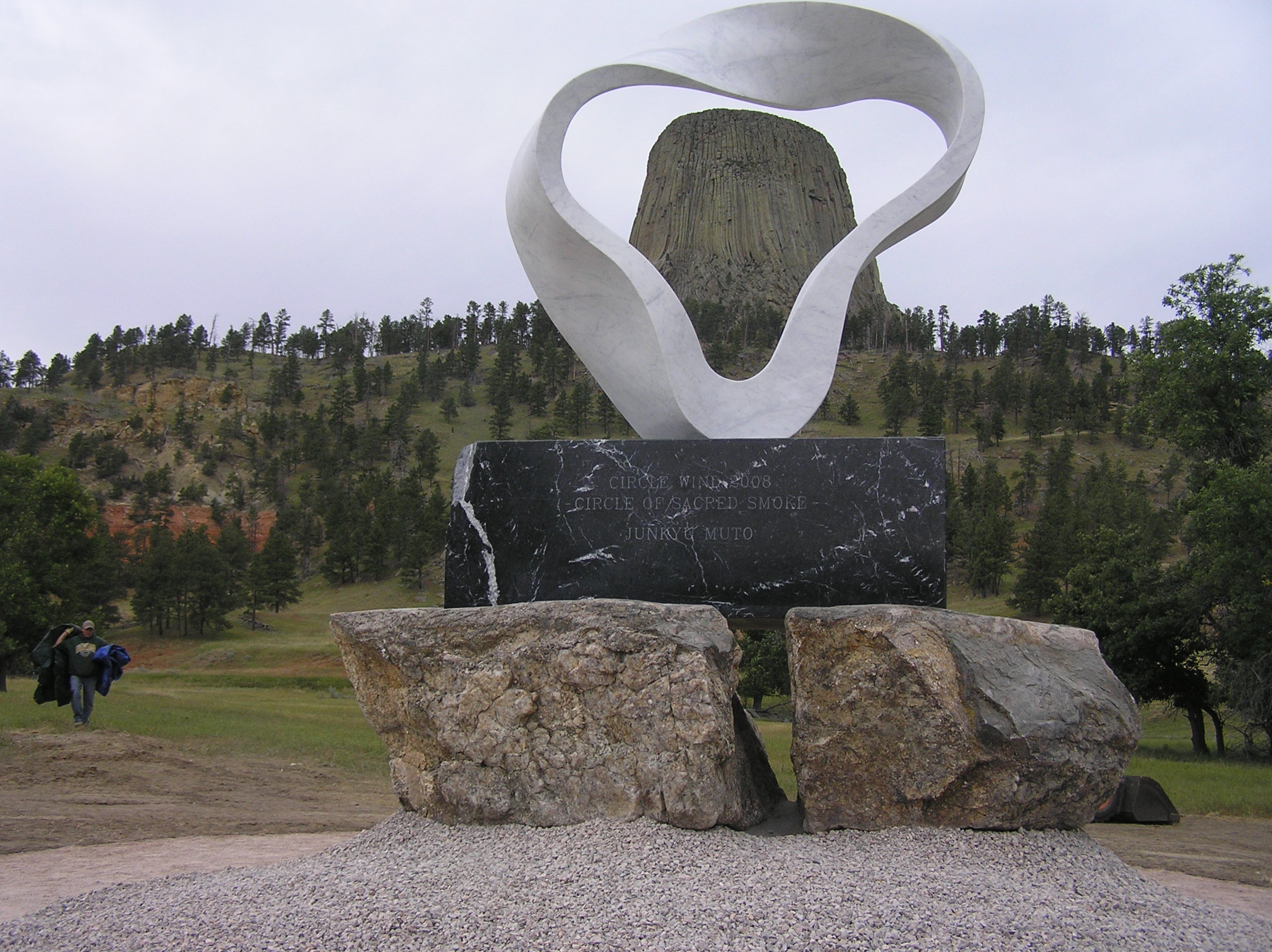 The
Visitor Center
is open year round. Hours vary from season to season. Interpretive exhibits explain the geologic, natural, and cultural history of the area.
Hiking trails are approximately 8 miles (12.1 km) through the Monument. The popular 1.3 mile (2 km) paved Tower Trail circles Devils Tower itself. Other longer trails traverse tranquil forests and meadows in the Monument.
Bat Festival August 29
1:00 pm - 10:30 pm
The festival will feature demonstrations on how to build bat boxes, information booths, crafts, and activities for kids.There will also be door prizes, an inflatable cave, and guest presentations. Bat listening walks will be offered during the evening hours.Visitors can use special detectors to listen to echolocation calls as bats fly overhead. The park entrance fee will be waived for those attending the festival.

Bat Festival Schedule
1:00-7:00
p.m.Educational Booths:
White-nose Syndrome
Devils Tower Bat Research & Ecology
Bat Roost Management
Building Bat Houses
Bat Detectors
Door Prizes
Children's Coloring & Crafts
Children's Activities

1:00-6:30 p.m.
Inflatable Bat Cave
2:30 & 4:30 p.m.
Bat House Building Demonstrations
7:30 p.m.
Winners Announced for Door Prizes @ Amphitheater
7:30-8:45 p.m. Presentations @ Amphitheater
7:30-8:00 Lynn Gemlo, Listing Coordinator, USFWS
Bat Ecology &White-nose Syndrome
8:00-8:45 Douglas Keinath, Zoologist, UWY
Bat Research at Devils Tower
9:00-10:00/10:30 p.m.
Bat Listening Walks
Group 1: Walk around campground area
(easy <1 mile loop, handicapped accessible)
Group 2: Walk around Tower Trail
(1.3 miles, moderately strenuous hike)

Circle of Sacred Smoke Sculpture:
The circle of sacred smoke sculpture honors the American people as a gesture of world peace by sculptor Junkyu Muto. The sculpture is designed to help raise visitor awareness of the importance of the tower to over twenty affiliated tribes. It is the third of seven works planned by the sculptor around the world. The first two are located at Vatican City and Bodhi, India. The sculpture represents the first puff of smoke from a newly lit pipe. The sculpture is accessible by road or by trail from the prairie dog town.
Winter activities include hiking, cross-country skiing, and climbing. Caution - trails are not maintained during the winter months. The road to the picnic area and circle of sacred smoke may not be open in the winter.
Technical rock climbing is allowed in the monument. ALL PERSONS PLANNING TO CLIMB OR SCRAMBLE ABOVE THE BOULDER FIELD ARE REQUIRED TO REGISTER BEFORE AND CHECK IN AFTER A CLIMB. The Climbing Management Plan, implemented in 1995, manages Devils Tower as both a natural and cultural resource. To the Northern Plains Indians, Devils Tower is a sacred site. Out of deference to American Indian views, there is a voluntary climbing closure during the month of June.
Interpretive activities: A full schedule of interpretive activities are offered Memorial Day weekend to Labor Day weekend. A modified schedule of activities will take place in September and October.
Ranger Talks explore the natural and cultural history of the monument. These 20 minute talks meet in front of the Visitor Center and are accessible. Subjects and times vary and will be announced prior to each program.
The Tower Trail enables visitors to explore Devils Tower with a ranger on the Tower Trail. This 1 ½ hour guided walk begins in front of the Visitor Center. Good walking shoes and water are recommended.
Evening Programs are offered in the amphitheater located near the campground and picnic area. Topics vary and are listed at the Visitor Center. Evening Programs begin at 8:30 p.m. Times may vary, check at the visitor center.
The Summer Cultural Program brings speakers and performers from the area to the park to present programs with tribal, historical or climbing themes. Check at the Visitor Center when you arrive at the Monument.
A Junior Ranger Program is available for children. Junior Ranger booklets may be obtained at the Visitor Center. Junior Rangers will need at least one hour to complete the program. Junior Ranger Certificates and badges are issued upon completion of the booklet. Junior Ranger Patches may be purchased in the bookstore.
The Writers in Residency Program alows writers to compete for two one-week residencies; one for prose and one for poetry. Selected writers will be offered housing at the Monument. A $400 travel stipend is provided by the Devils Tower Natural History Association. The goal of this residency is to provide an inspiring, secluded working environment for promising writers. Please click here for more information